Coaching Team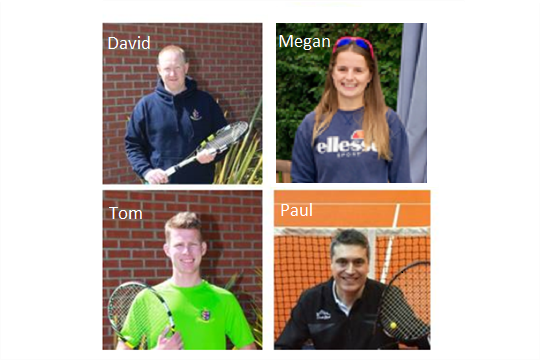 David Lawlor is very highly respected within Herts LTA. Coaching since 2001 having gained a degree in Sports and Exercise Science, he became Head Coach at Harpenden Tennis Club and achieved the Level 5 Master Club Coach Award in 2013. David directs the coaching strategy at STC and is part of our Committee.
Tom Dyball is our Head Coach who will direct the coaching programme for STC. He has developed as a coach under the mentoring of David Lawlor and has achieved Level 4 LTA Accreditation. Tom will be our principal point of contact.
Paul Wood is an experienced county tennis player providing coaching at locations such as David Lloyd Tennis Centres. He has LTA Level 3 Accreditation with excellent lesson coaching skills for adults or minis.
Megan Godfrey-Evans qualified as a level 3 coach in January of 2017 under the mentoring of Tom Dyball. She has experience working with a wide range of ages and abilities. In the summer of 2018 she travelled to USA to work for Cliff Drysdale Tennis. Megan's sessions are based around growth mind set, hard work and fun.
Contact Details
Tom Dyball
[email protected]
07751 240754