Club History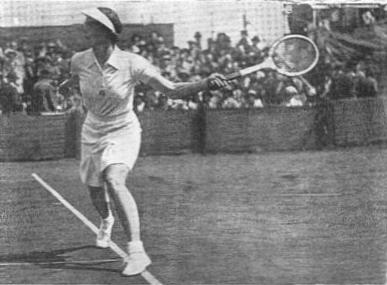 St Albans Tennis Club is the oldest tennis club in St Albans. The club was incorporated in November 1904 as St Albans Lawn Tennis & Croquet Club and play started in June 1905. After 64 years at Hillside Road, the club was forced to move when the council compulsorily purchased the site, in order to build Maple Primary School. For a couple of years the Club used hired courts in Clarence Park, until it was able to move into its current "rather rural" premises in Jersey Lane in 1971. It was only in 1999 that the "& Croquet" was dropped from the Club's name, even though the game had died out in the 1920s.
The Club has served an enthusiastic tennis playing community for over 100 years, and has often enjoyed great success in both the men's and women's local Hertfordshire leagues and competitions. We also had a Wimbledon Ladies Singles Finalist and Doubles Champion, Kay Stammers, shown in the image, who won our ladies singles tournament some years earlier.
Simon Bird (a previous club chairman) has documented in much detail the club's history. He has more on the History of Kay Stammers on his own website, and wrote a potted history of the club entitled The First 100 Years.
St Albans
1929 - Mixed Doubles Winner with D H Scott
1931 - Ladies' Singles Winner
Wimbledon
1935 - Ladies' Doubles Winner with Miss Freda James
1936 - Ladies' Doubles Winner with Miss Freda James
1939 - Ladies' Singles Finalist (lost to Miss Alice Marple)
Ladies' Singles Quarter-finalist:
1935, 1936, 1938, 1946, 1947