There are plenty of opportunities for both fun and competitive tennis at Stebbing Tennis Club.
Club Championships
The Club Championships run each year from May throughout the summer. Finals day is usually the second weekend of September. Any player aged 14 and over is welcome to enter - it is a great way of meeting other members. There are 5 competitions - Mens & Ladies Singles, Mens & Ladies Doubles and Mixed Doubles.
Club Night
Every Thursday from 6 - 10pm is Club Night. Members of any standard aged 18 and over are welcome to come along at any time and join in. Juniors who play in the adult league matches are also welcome.
Light refreshments are provided by the club and anyone wishing to enjoy a drink is welcome to bring along a bottle. Please note the club does not supply the wine.
Club Morning
Every Sunday from 10.30am is Club Morning. As with all club events, members of any standard (no age restriction) are welcome to come along and join in.
League Matches
Stebbing Tennis Club enters the Summer and Winter Small Clubs League. Matches are played throughout the year and all members are warmly invited to participate. We have 7 teams in total - two mens, two ladies and three mixed.
Matches are usually played on weekday evenings from 7pm, or at weekends. Players pay £3.00 for each match they play and light refreshments are provided by the home team after the match.
Club competitions
There are several club competitions held throughout the year - both one day competitions and the seasonal Club Championships. Details are posted on our News page.
Ladies Evenings
Friendly, fun and informal Ladies Evening are scheduled ad hoc and members will be emailed the dates. Rest assured we make sure we find time to chat and socialise as well as play tennis!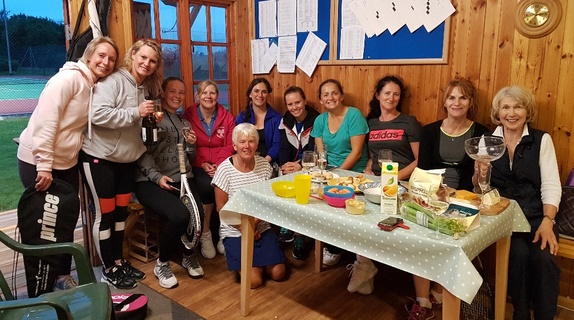 Social events
The club runs a number of social events throughout the year. Full details are posted on our News pages as and when dates and details are confirmed.