Welcome to
The Sundridge Park Club - Tennis Padel Squash
Introduction
The Sundridge Park Club is Kent LTA Club of the Year 2020. It is renowned for its friendly welcome and idyllic location, a green oasis just outside Bromley Town centre in Sundridge Park. We have a game for everyone, complete beginners through to experienced players. Our aim is for every member to have fun, keep fit and feel part of our community.
Padel is a form of tennis that is easy to play, fun and extremely sociable. It is played mainly in a doubles format on an enclosed court about a third of the size of a tennis court and can be played in groups of mixed ages and abilities, as it is not power dominant. The rules are broadly the same as tennis, although you serve underhand and the walls are used as part of the game with the ball allowed to bounce off them.
One of the fastest growing sports across continental Europe, padel has gained increasing popularity over recent years, with over six million people currently playing in Spain.
We are proud to have the first courts in Kent.
17 tennis courts:
6 grass courts
7 floodlit all weather clay courts
4 macadam courts (1 floodlit)
2 padel courts
4 squash courts
What makes us special?
Our family friendly inclusive atmosphere
A personal introduction for every new member to similar standard players
Enthusiastic coaches with a comprehensive programme ( all LTA accredited)
5 social play sessions a week
Only club in Kent with padel courts
Non members welcome at coaching and to book a court
Junior members can play unlimited squash and tennis
20+ tennis teams- 2019 North Kent most successful club
A welcoming clubhouse with homemade cakes, coffee and bar facilities.
Regular social events from summer BBQ's to quiz nights and family nights
Yoga & pilates classes
Would you like to book a pay and play court? Click the court tab and we will see you soon!
We have a game for everyone! Give us a call and come and see for yourself.
T: 0208 464 9106
email us at [email protected]
Take a look at our website for all the latest information - http://www.thesundridgeparkclub.co.uk/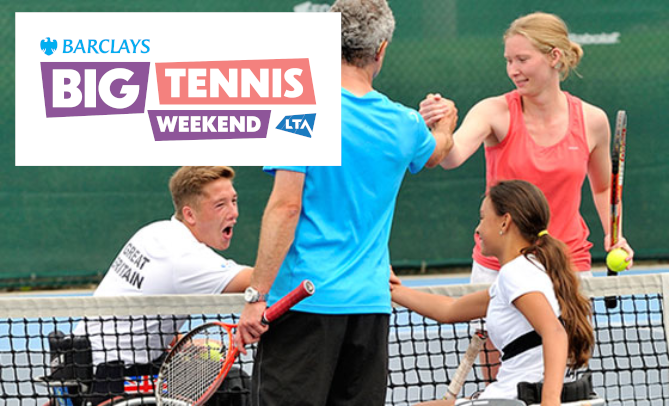 We're hosting an LTA Big Tennis Weekends event!
Try tennis for free this summer at an LTA Big Tennis Weekends event! Rackets and balls will be provided, so whether you've never picked up a racket before or you're a seasoned regular – there is fun to be had.
---