Please follow the rules of play during Covid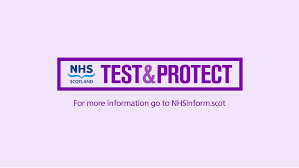 Please read and follow the Tennis Scotland rules for players. Follow guidelines on social distancing from the Government.
Adults and ages 12 and over can play singles and doubles tennis.
IMPORTANT: Do not play tennis if Government advice means you should stay at home because you or someone you live with has or has had symptoms of COVID-19, or are in the most vulnerable category and have been advised to shield from the coronavirus.
TEST AND PROTECT
To comply with Scottish Government legislation, members MUST record their name, contact details and date / time of play in the book in the clubhouse. The contact details for one lead member of your playing group will be sufficient.
Any pay to play visiting players MUST log their details in the book provided.
In line with legislation, details will be retained for 3 weeks, then destroyed.
BOOKING and COURT ACCESS
Please wash your hands before leaving home and when you return home.
Use the sanitiser provided after you have accessed the court.
EQUIPMENT
Please use your own equipment. You may share tennis balls. The court brushes are back in use so please sweep courts after use.
PLAY
Take ALL belongings and rubbish home with you.
CLUBHOUSE
The clubhouse is now open but face coverings must be worn.
Please clean toilets after use and wipe all touch points with the wipes available in the clubhouse and take the wipes / paper towels home with you.
Don't leave ANY litter - including ball cans, ball can lids, plastic bottles, packaging etc. Please take all your belongings home. Any clothing etc found at the club will be kept for a short while then donated to charity.
FIRST AID
MEMBERS: If you need to use the first aid kit or the defibrillator you may enter the clubhouse to access these. They are in the main part of the clubhouse.