Welcome to
Tilford and Rushmoor Tennis Club
Welcome to Tilford and Rushmoor Tennis Club
Tilford and Rushmoor Tennis Club is located in the idyllic village of Tilford. Quiet and set back, the recently upgraded surface and equipment provides all ages and abilities access to a great sporting outlet and social meeting place. The club is entirely self funded and run by a group of enthusiastic volunteers who give up their valuable spare time to make things happen.
Members access the club via a combination padlock and also have access to a quaint little club house offering shelter and eco facilities. With unlimited court use, access to social mix ins and coaching from Prime Tennis, Tilford and Rushmoor Tennis Club represents excellent value for money.
New members are always welcome. Memberships taken out now are valid until Spring 2021 and cost only £30 per adult and £10 per junior. Children under 5 years are free and family membership is just £60.
Bringing a guest? Guests can now play for £5 when accompanied by a member. Please pay the guest fee to the club's bank account (with "Guest" as a reference) using the following details:
Account Name: T&RTC | Sort Code: 08-92-99 | Account Number: 65447611
COVID-19: RETURN TO RESTRICTED PLAY
​4th July 2020
Based on LTA Guidelines
The virus has not gone away and it is paramount that Members remain careful and continue to observe the safety protocols that have been put in place for the benefit of all.
---
SECTION 1: BEFORE & AFTER PLAY
STAY UP TO DATE
Be aware guidance can change and restrictions may be reintroduced – ensure you have checked the latest version of the LTA's guidelines for tennis players on the LTA website click below
BEFORE LEAVING HOME & AFTER YOU RETURN
Wash your hands with soap and water for at least 20 seconds before leaving home to go to the court (or use an alcohol gel if washing hands is not possible)
Only take the minimum amount of equipment with you that you need to play
Clean and wipe down your equipment, including racquets and water bottles before and after use
Bring a full bottle of water and do not share food or drink with others
Bring your own tennis balls that are clearly marked (e.g. with your own initials)
Ensure you take all your own belongings with you at the end of the session and do not leave anything on court
TRAVELLING TO & FROM THE COURT
Sanitise your hands after touching any court gates, fences, benches, etc, and avoid doing so where possible (gates will be left open and the nets locked off at the correct height).
Arrive as close as possible to when you need to be there
Be sure to leave the courts 5 minutes before your court time ends so that it is empty for the next players
Allow players to leave before you enter the court – allowing one metre plus physical distancing
If you need to wait please do so away from the courts and clear of the gates
Arrive ready and changed to play

SECTION 2: DURING PLAY
TENNIS ACTIVITY
NEW. Both singles play and doubles play is now permitted with people from outside of your household, as long as you remain 1 metre apart as far as possible – meaning that four people from different households can now play doubles.
Coached sessions should be limited to groups of no more than 6 people, including the coach(es)

MAINTAIN SOCIAL DISTANCING
Stay at least 2m away from other players at all times (including during play, when taking breaks and before and after play).
For doubles, consider agreeing in advance which player will take the shot if a ball travels to the centre of the court
Do not make physical contact with other players (such as shaking hands or high five)
Stay on your side of court and avoid changing ends, or agree to change ends at opposite sides of the net
Avoid chasing the ball down to another court if players are using it
EQUIPMENT & FACILITIES
Use your own clearly marked tennis balls if you prefer but use of others tennis balls is now permited
SUPERVISION
Where attendance of a parent/guardian (non-participant) is required, or a carer for a disabled player, it is permitted and is not counted as part of the maximum group size of six, but should be off court and limited to one per player where possible, with social distancing strictly observed while watching the sessions
HYGIENE
Hand hygiene is imperative - use alcohol gel to clean your hands after touching a shared surface. We recommend you use your own hand gel.
If you need to sneeze or cough, do so into a tissue or upper sleeve
Avoid touching your face
COMPETITIONS
Some formats of competition will be able to resume, internal singles and doubles box leagues/ladders can be played as long as they adhere to the guidelines in place. The Annual Mixed Doubles Tournament will start on 1st July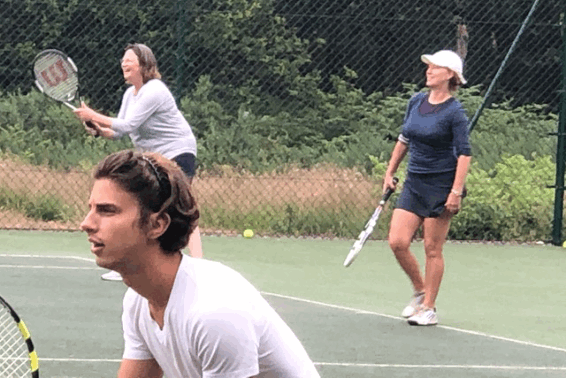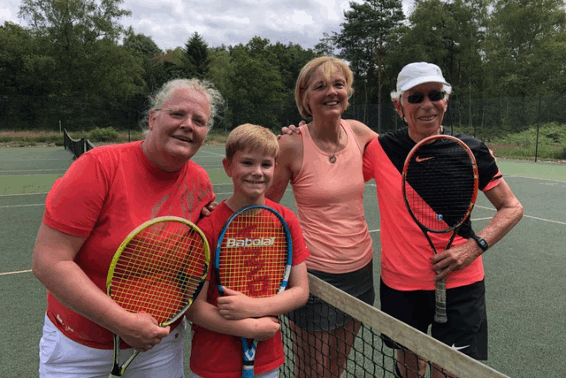 ---
How to find us
Tilford and Rushmoor Tennis Club
Stonehills Recreation Land
Tilford Road
Tilford
GU10 2DD

Get directions