Club Security
The club uses an electronic access control system to regulate and monitor access to the club and clubhouse. Swipe cards will be issued to members with the appropriate access rights relevant to their membership category.
Members should be aware that the system provides and stores information about card usage. This information may be used by the committee to identify members present should an incident take place at the club.
Cards are for members' personal use only and are not to be given to any other person, member or non-member. Please do not identify your card as belonging to the tennis club so it cannot easily be used by others should it be lost or stolen.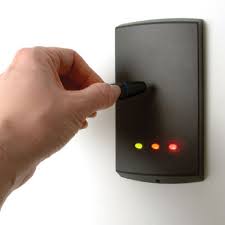 Unless there is a coaching session, an open day or similar taking place, the main gate to the club on Victoria Drive and the clubhouse door should be kept locked. The main gate and the clubhouse door should never be propped open without the authorisation of a committee member or club coach.
Lost or Stolen Cards
If you have lost or have had your access card stolen, please report it immediately by email to [email protected], so the card can be cancelled. Replacement cards are available for £5 each.
Renewing Your Membership
Annual membership to the club expires on 31 March each year and must be renewed by payment of the appropriate membership fee. If you do not promptly renew your membership, your key card will be cancelled and you will not be able to access the club. If this is an oversight and you subsequently pay your membership fees, your card will be re-instated. Membership renewal forms can be downloaded from the Joining section of this website.
Frequently Asked Questions
The access control system has proved very reliable, so far. But, if you have any problems gaining access, please first check the frequently asked questions below. If you still having problems please speak to any member of the committee, or send an email to [email protected], giving your name and a brief description of the issue.
My card does not allow me access after 10pm?
Members are not permitted access to the club after 10pm and before 7am. However, please note that if you are still in the club after 10pm, the exit buttons will still allow you to exit the premises. Unless there is an official club event, members are requested to vacate the club after 10pm.
I am a junior member and my card does not allow me into the clubhouse?
Junior members are not permitted access to the clubhouse after 7pm unless there is an adult member present. Juniors may still access the tennis courts after 7pm.
My child has not been issued with an access card?
Junior members under the age of 11 will not be issued an access card if there are also older members in the same household. However, if this causes any problems, a card may be issued on request. Please note that children under 8 must be accompanied by a parent or guardian.