Coaching Programme
Welcome to the coaching page. We are always looking to develop our programme to meet the needs of members and those looking to give tennis a try. Our current programme is set out below but if you have any requests we are ready to listen.
After a challenging year last year, we are aiming to add some family sessions to the programme and a variety of social tournaments geared to all levels and ages.
Keep an eye out for the new LTA Youth courses coming up soon. These are a great way for young children to learn the game.
Please make any enquiries regarding coaching to Adrian Hyde (Head Coach).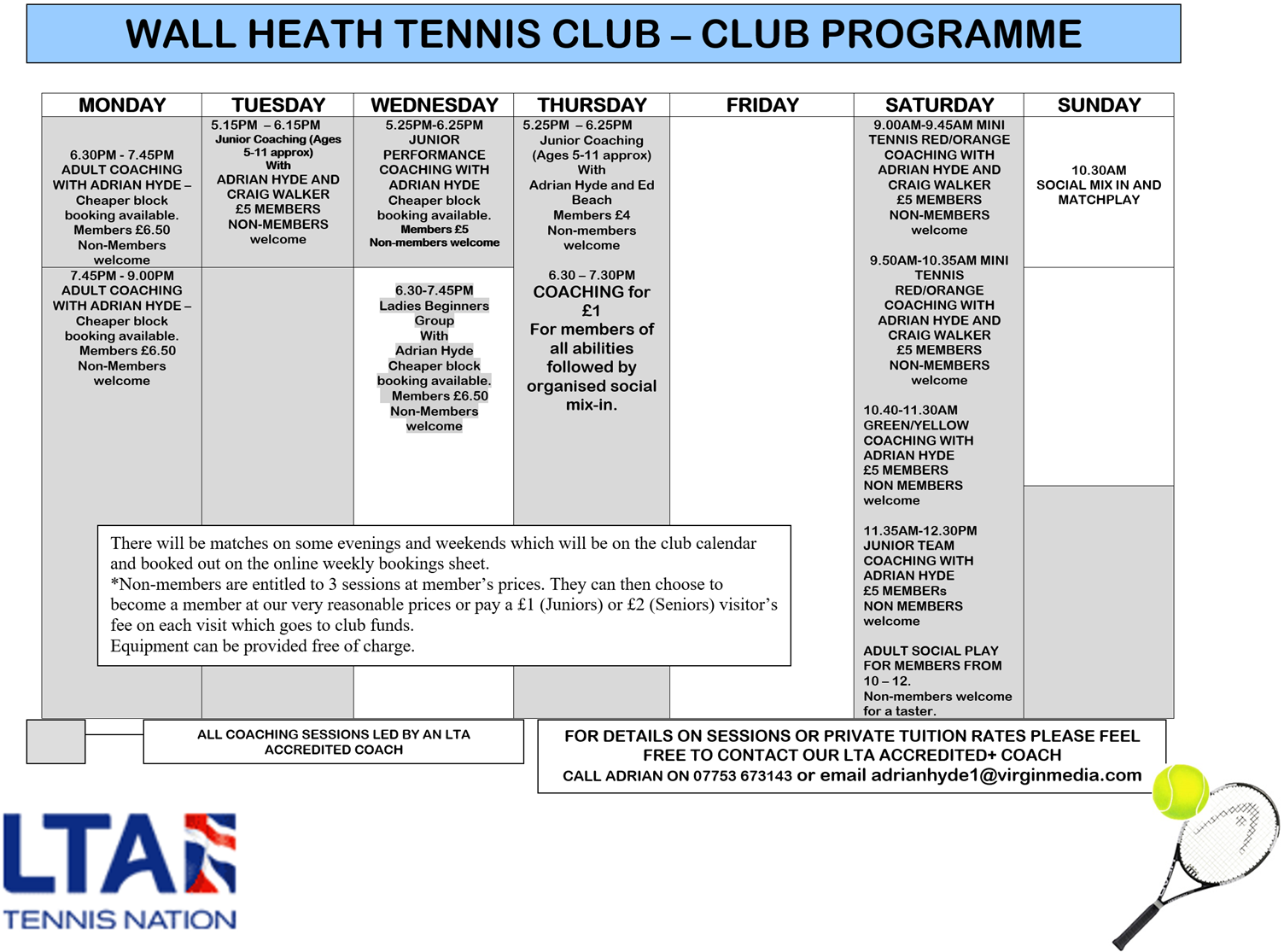 Coaches
Our coaches are qualified and are DBS certified.
---
ADRIAN HYDE - HEAD COACH
LTA Level 4 Licenced Coach, B.Ed Hons Primary PE

Player Experience:

Member of British Club Champions team

Played for Staffordshire County at Wimbledon

10 Staffordshire County Titles

Staffordshire County player for 30 years

30 years playing in the top divisions in Hereford & Worcester and Staffordshire
Why do I Coach at Wall Heath Tennis Club?
​
"Wall Heath Tennis club is where I started playing tennis at the age of 8 and I continue to do so today. It's given me lots of happy memories and so many great friends. I want the Community of Wall Heath and surrounding areas to have the opportunities I have enjoyed."
Coaching Experience

Adrian has over 30 years of coaching experience: County, University, Club and School level. For the last 25 years, Adrian has taught in Dudley and supported PE both during and after school. In November 2015 Adrian received an award for coaching in the community from the Black Country Be Active Partnership. Adrian has produced several junior and senior county players and is particularly pleased that many have been motivated to go on and become coaches themselves.
---
ADRIAN WATTS - COACH
LTA Level 2 Licenced Coach

Player Experience:

Staffordshire County Vet Team Member

ITF Senior Ranked Singles/Men's Doubles/Mixed Doubles
Why do I Coach at Wall Heath Tennis Club?
"I have only been associated with the club for a year but, I love the friendly vibe of the community here. I feel we can take the club forward in many ways. "
Coaching Experience
I qualified as a coach when I was 17 years old but I left the sport due to other commitments. I picked up a racket again 8 years ago and recently completed my level 1 & 2 of the LTA coaching courses and pursuing my level 3. My aim is to encourage both junior and adult members to take part in social and competitive tennis.
---
CRAIG WALKER - COACH

RPT National Professional, USTA 'A' Trainer (Germany)

Player Experience

Austrian County League

Austrian Seniors National League

Hereford & Worcester League

Kidderminster League
Why do I Coach at Wall Heath Tennis Club?
"I enjoy coaching and playing at WHTC as it is a friendly, relaxed and welcoming club."
Coaching Experience
He has coached tennis and skiing for over 30 years and has taught in the UK, Europe - Austria, Spain and Italy and the USA. Craig coaches adults and children in both group and one-to-one sessions. He also provides a racquet re-stringing service.
---
EDWARD BEACH - COACH
LTA Level 2 Licenced Coach, PGDipEd Secondary

Player Experience

Hereford & Worcester League

Kidderminster League

University League (BUCS)
Why do I Coach at Wall Heath Tennis Club?
"I started playing when I was 12 at Wall Heath Tennis Club and I haven't looked back. Everybody is so welcoming at the club and it feels like a big family. With events going on throughout the year, it gives you a chance to meet every member of the club. I am so thankful to have grown up playing at Wall Heath Tennis Club and it has given me experiences like no other."
Coaching Experience
Edward started coaching in 2018 during his studies at university. While at university he became their Ambassador for Tennis and accumulated various awards: Volunteer of the Year, Runner-up Coach of the Year and Club of the Year. He has experience running competitions and coaching Tots (ages 3-5), Reds (ages 5-8), Oranges (ages 8-9), Greens (9-10), Juniors and Adult fitness sessions including Cardio Tennis.
---