Onslow Village Lawn Tennis Club runs a range of coaching classes, both group and individual. Group coaching can be booked below, our courses start each half term if nothing is shown below then the start time has passed. When the next block is programmed it is offered to players currently under training first and then members.
Coaching is available to both members and non-members.
Members can organise individual coaching with:
Junior Coaching
The LTA divides juniors into colours, which defines the type of ball they play with. The sequence being red, orange, green then yellow.
However there are several factors which decide which group a junior should play in, age, experience and size of the player. The impact of friendship groups should also be considered so players can progress together if possible.
At OVLTC we will advise on the group a player should join and if after they have started we feel they are in the wrong group we will move them to a more suitable group. In our program we have different groups of the same colour so we can shuffle players to be with others who they are best suited to play with.
A guide is below of the colours that we suggest as a starting point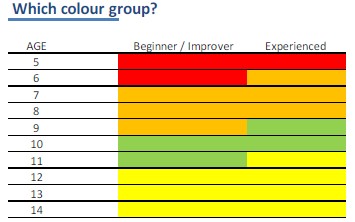 At OVLTC we run "Super" groups, so you will sometime see reference to Super Red or Super Orange these are groups for players that have been playing for a while and act as a transition to the next group. They are typically used for players who are good for their age but their physical size means that they couldn't move up to the next group just yet.