Competition
Entries for next Mixed Box League required by 22 April
Fri, 05 Apr 2019 00:00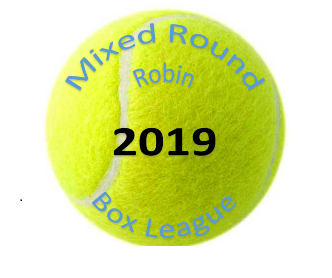 Entries are being accepted now for the Swanmore Tennis Club Pre-tournament Mixed Doubles Box League round that starts from 23 April. All Swanmore tennis club members 16+ are invited to take part and strong juniors are most welcome. New rules apply (see below).

A 2 box format may be used if there are enough entries.
To enter please make sure your detals are sent by Monday 22 April by email to Katie.
Send entries by Monday 22nd April 2019 to Katie
Amended new rules
(1) By agreeing to take part your email address will be made available to the other participants and parents/guardian on behalf of U18 participants
(2) Players must show up with 15 minutes of the arranged match time otherwise they will forfeit the match to their opposition at their discretion
(3) Please use good quality tennis balls (no one wants to hit a flat ball on court)
(4) Match format best of three sets, two normal sets and play third set as championship tie break
(5) Scoring system per match;
(6) Winning pair 4 points
Losing pair 1 point, plus 1 point per set won
Bonus points; extra two when five and six matches played, and extra four when all matches completed based on seven matches format, will vary as per total number of matches in a box
(7) Record match score on score sheet kept in Club House after completion and email Katie
(8) Overall score to determine rank in the Box
Have a great and enjoyable mixed round robin everyone!