Club
Bash Kara scoops national lifetime LTA achievement award
Wed, 05 Aug 2020 00:00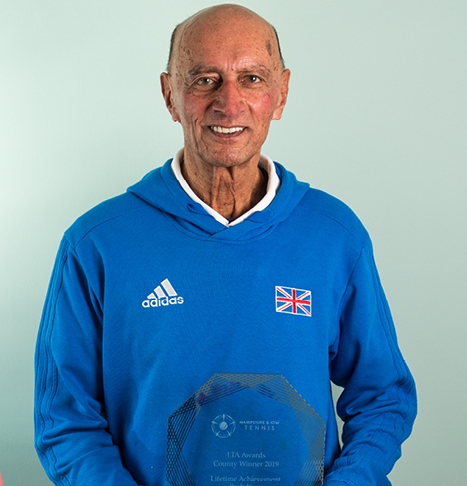 Swanmore Tennis Club coach, Bash Kara, still teaching the game at 80 years young has had his efforts recognised by scooping the 'Lifetime Achievement' award at the 2020 LTA Tennis Awards.
One of 18 national winners, Bash Kara received the accolade from the governing body for tennis in Britain on account of his epic efforts with Andover and Swanmore Tennis Clubs in Hampshire. The Lifetime Achievement award is a very special prize that recognises some inspirational role models who have dedicated a staggering number of years to tennis.
Bash is a true champion of grass roots sport. His passion for inclusion began when he brought tennis to the council estates in Southampton to a programme he took to Downing Street where he ran sessions with John McEnroe in front of Tony Blair.
Bash is a true leader at his two tennis clubs and far beyond, and was presented with his award at a virtual ceremony by Annabel Croft, presenter and former British No.1.
Speaking about his award win, Bash commented:
"Finding out I had won during the virtual presentation was a big surprise for me, and I am very proud to have been recognized and given the award. But I won't stop yet and I will continue coaching the junior players. I have been coaching for more than 25 years and I enjoy every moment of it, working with young players, meeting other coaches and attending coach training sessions organised by the LTA."
"I was introduced to tennis by a friend – I really enjoyed it, took up the game and then went through the LTA to qualify, and I haven't stopped since! It's a social game that can be played by anyone at any age and I really enjoy that about tennis."
About the Awards
Currently in their fifth year, the LTA Tennis Awards celebrate the achievements made by outstanding tennis volunteers, coaches, officials, venues and players in Britain. To be in contention for the national award, Bash had already claimed the County award for Hampshire and the LTA regional award for the South West.
Streamed live on LTA channels and presented by Leon Smith OBE, the national ceremony – which was digital for the first time in the awards' history – saw Bash pick up his award alongside 17 other national winners, including current British No.1s Dan Evans and Johanna Konta who were named the LTA Men's and Women's 'Player of the Year' respectively.
This year saw more than 2,000 nominations across grassroots categories including Young Person of the Year and Club of the Year.
Nominations were drawn from more than 25,000 volunteers, 4,400 coaches, 940 officials, 20,000 schools, 2,700 clubs and more than 9,700 LTA approved tournaments, demonstrating the extraordinary contributions of individuals and venues who help to open up the sport and bring new fans and players to the game.
"The LTA Tennis Awards are a real celebration of the people that make our sport thrive," said LTA president, David Rawlinson. "They celebrate the achievements made by outstanding volunteers, coaches, officials, venues and players, who are all vital in helping us to grow the game.
"To be named a national winner out of over 2,000 public nominations is a fantastic achievement so I'd like to congratulate all of this year's winners and extend my thanks to each and every one of them for all that they do to help tennis in Britain."