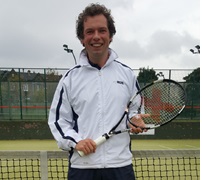 Head Coach : Paul Jepson
Paul is an LTA level 4 qualified (Accredited Plus) coach and also holds a degree in Sport Science. He brings with him over 14 years of coaching experience and has worked across the whole spectrum of the tennis industry. He started his career as a coach at some of the premier racket clubs in the north of the country such as Lancashire Rackets and Huddersfield LTSC.
He has previosuly produced players who have played at county and national level. More recently though he has been heading up the Bury Parks coaching initiative and over the last few years has focused on grass roots of the game and loves getting people involved with the sport.
Paul was voted the prestigious title of the 2018 National Coach of the year by the 'Tennis for Free ' organsiation.
As a junior player Paul competed throughout Europe in competitions.In adult competition he played regularly in the national tennis league and in 2010 was the Lancashire County mens doubles champion and more recently the over 35's Lancashire County men's singles finalist.
Paul is known for his welcoming and friendly coaching style and is overseeing the whole coaching program here at the club. He is first point of contact for any coaching enquiries and is also available for individual lessons/Group coaching.
Tel 07841 605244
Email :- [email protected]
Individual Lesson Rate - £25 per hour