Appleton with Eaton Tennis Club
Welcome to
a very friendly club with two courts, a practice wall and floodlights
Please bear with your Committee – these are extraordinary and difficult times.
COVID-19 revised guidance 1 June 2020
Courts Open with Restrictions
The committee is pleased to say that following the latest Government and LTA guidance on Coronavirus we are able to open the courts for singles or doubles with members of different households providing that members maintain social distancing guidelines.
We have produced a set of RULES and GUIDELINES (click to read them in full).
Please do make sure that you stick to the Rules and read the Guidance fully before venturing to the Courts. If you have any queries, please contact the club by email.

RULES
Both singles and doubles play is now permitted with people from outside of your household, as long as you remain 2 metres apart as far as possible – meaning that 4 four people from different households can now play doubles.
You may not play unless you have booked a court (see Guidance for further advice on booking). DO NOT GO TO THE COURTS UNLESS YOU HAVE BOOKED A COURT.
The Clubhouse will be shut.
The Toilets will remain shut. (No access to floodlights so play will be restricted to daylight only).(Although LTA guidelines now allow for toilets to be re-opened with careful cleaning, the Committee do not believe that we can maintain/guarantee the levels of necessary cleaning).
Only players are to go to the courts – spectators and hangers-on are not permitted. The only exception is where an adult is required to supervise Junior players.
No extra-curricular or social activity is allowed at the courts.
Strict 2m distancing is to be maintained between players at all times including when entering and exiting the courts.
The guidance outlines bookings, how junior members should access the courts and a reminder that there will be no hand-washing or toilet facilities available at the club. However, hand sanitizer gel is now available from dispenser on the Clubhouse wall (next to the notice board).

The pigeon screens are now in use. Please raise the screens before play and drop the screens to the floor if you are the last person to leave the court (and nobody is following you on). Hand sanitizer is now available from a dispenser on the clubhouse wall, next to the noticebard, if you have to touch the pigeon screens. (The pigeon droppings from the trees above cause severe damage to the new court surface - please make sure you use the pigeon screens).
LTA Guidance
All the updates from the LTA can be found here
https://www.lta.org.uk/coronavirus

Coaching
Coaching is available from Craig - please contact him directly to arrange sessions. Mobile: 07719599582 Email: craigstenniscoaching@gmail.com
Club coaching will resume when possible.
Craig is also able to supply tubes of 4 Head Davis Cup balls at £3.50 each or 3 tubes for £10
Club Tournament
All draws have been made and all competitors should have received an email from Alison (if not please email the club). You can see the progress online:
https://competitions.lta.org.uk/sport/tournament?id=A778A5A3-E5B0-4CBD-85B1-80D6C3165AA6
Timescales for playing rounds will be shortened as we are still aiming for finals on 13 Sept, but we hope that this will be manageable in current circumstances. Clearly changes may have to be made if guidelines alter.

Finals Day will be Sunday 13th September – subject to guidelines on social distancing etc in force at the time.
Thank you for your continued support
Appleton with Eaton Tennis Club Committee
#Tennis at Home
Although there are restrictions on the use of our tennis courts at the moment there are plenty of tennis games to play, use the tag #tennisathome on your social media and the internet to find inspiration. Below are some of these tennis- based activities that you could try to keep up your tennis skills during this period.
The LTA have a lot of different games and exercises on their website for each age group. LTA Tennisathome: https://www.lta.org.uk/play-compete/lta-youth/tennis-at-home/
Roger Federer and Andy Murray have done the100 Volley Challenge with their wives, try it on your own against a wall or with anyone or everyone in your household- search for #100volleychallenge.
If you want to keep up your cardio why not try an on-line cardio session. We like the VoWH's Olly Carr's 30 minute session. This can be done indoor or outdoor - https://youtu.be/-dTdVrE7R90. This is free and he has an NHS justgiving page https://www.justgiving.com/crowdfunding/tennis4nhs .
Stay Connected - post your tennis activities
It would be great to see what you have been doing. Please post videos or photos of your tennis based activities on our Facebook page AppletonwithEatonTennisClub or email them to us (appletonwitheatontennisclub@gmail.com) and we will upload them to our website.
Emma Queralt has already started to make up her own tennis routines! https://youtu.be/MtlIJf8XeVk
Update on Membership Renewals
Thank you to the large number of people who renewed their membership, it is very much appreciated, particularly in these constrained times and saved our treasurer a lot of work at a busy time for him. If the delay is lengthy, we will look at partial refunds of this year's membership once play resumes.
We will send out the new lock combination once the courts are re-opened.
If you need to change your email address, you need to log in using your existing details, then click on your name in the top right and select 'my account' and update your email address. This is the help from ClubSpark:
https://sportlabs.zendesk.com/hc/en-us/articles/360000358286-Editing-your-Details-Profile-GDPR-
Please note that during normal times the courts are open from 09.00 - 21.30 and should not be used outside these hours.
If you have a Safeguarding concern, please contact our welfare office, Alison Jackson - more details on our Safeguarding page
For all club documents including our Club Handbook - see the Documents page
Join Us!
To join the club, please email the membership secretary through the usual email address: appletonwitheatontennisclub@gmail.com.
If you have any problem registering or booking a court, please email appletonwitheatontennisclub@gmail.com
See all the NetCalls we have recently sent out:
https://us20.campaign-archive.com/home/?u=6f95ff7644ec405b355ec6588&id=f978306102
Previous NetCalls
https://us1.campaign-archive.com/home/?u=275e7b35881ebc763d8b34257&id=4ab7fd21d1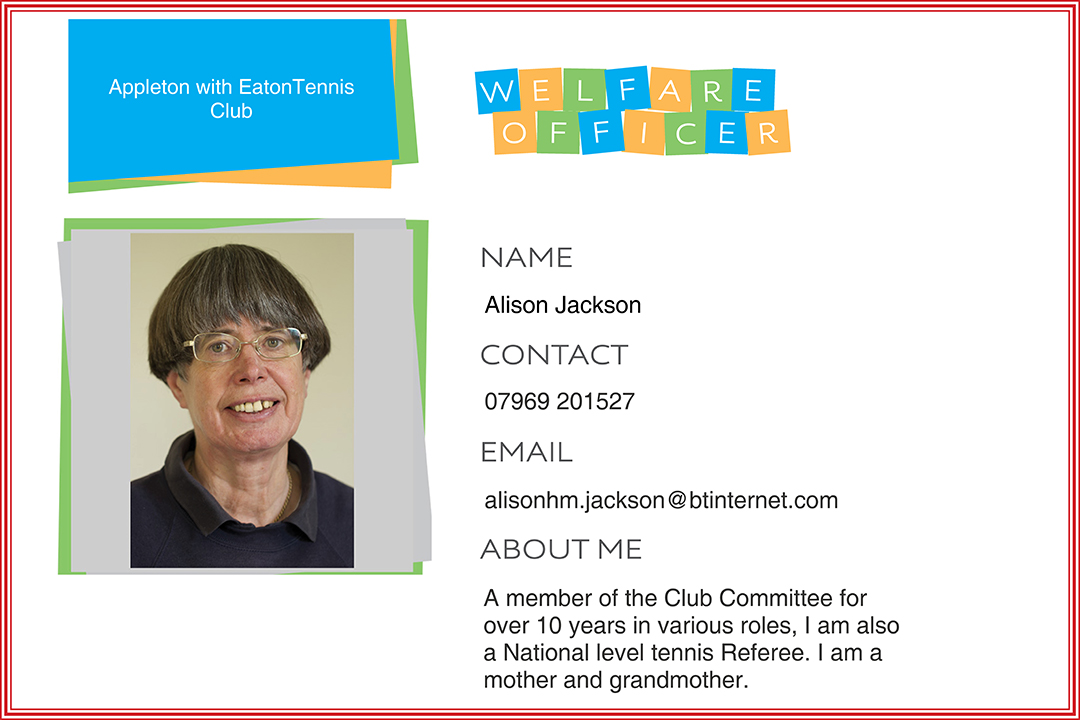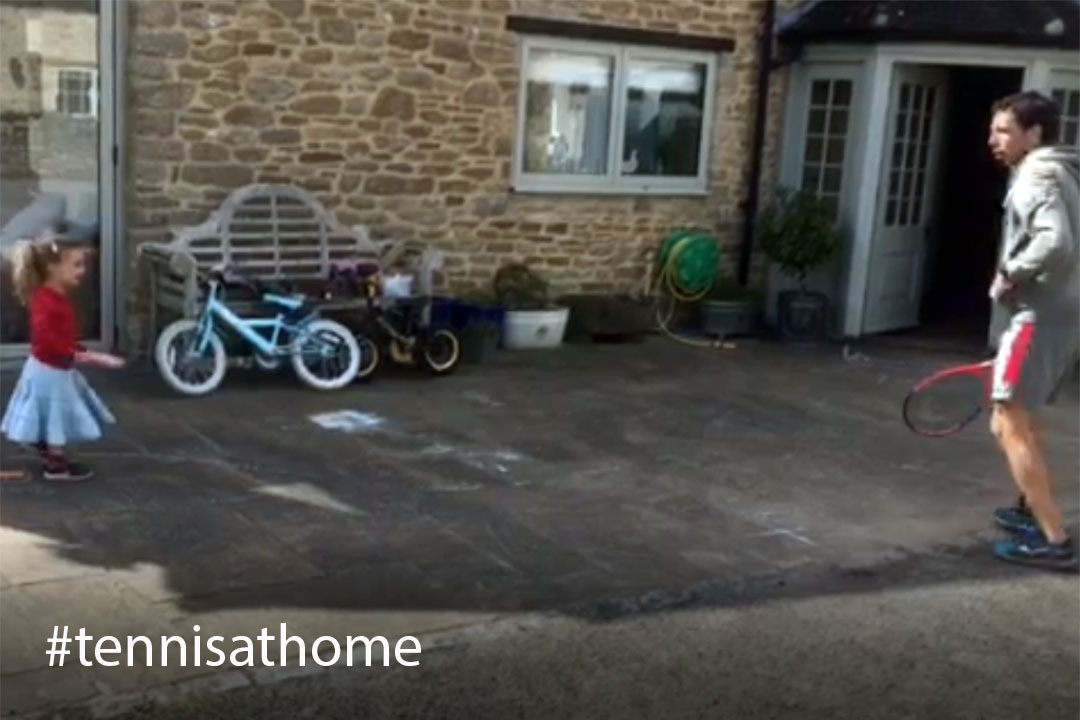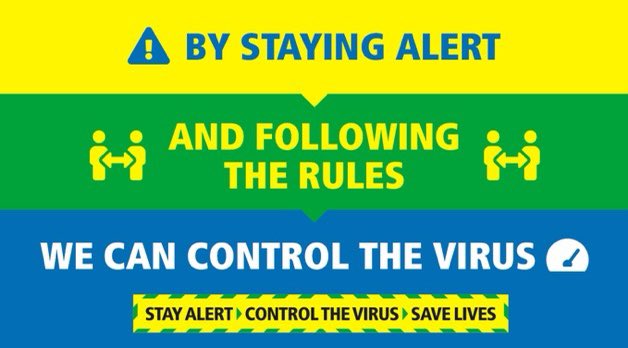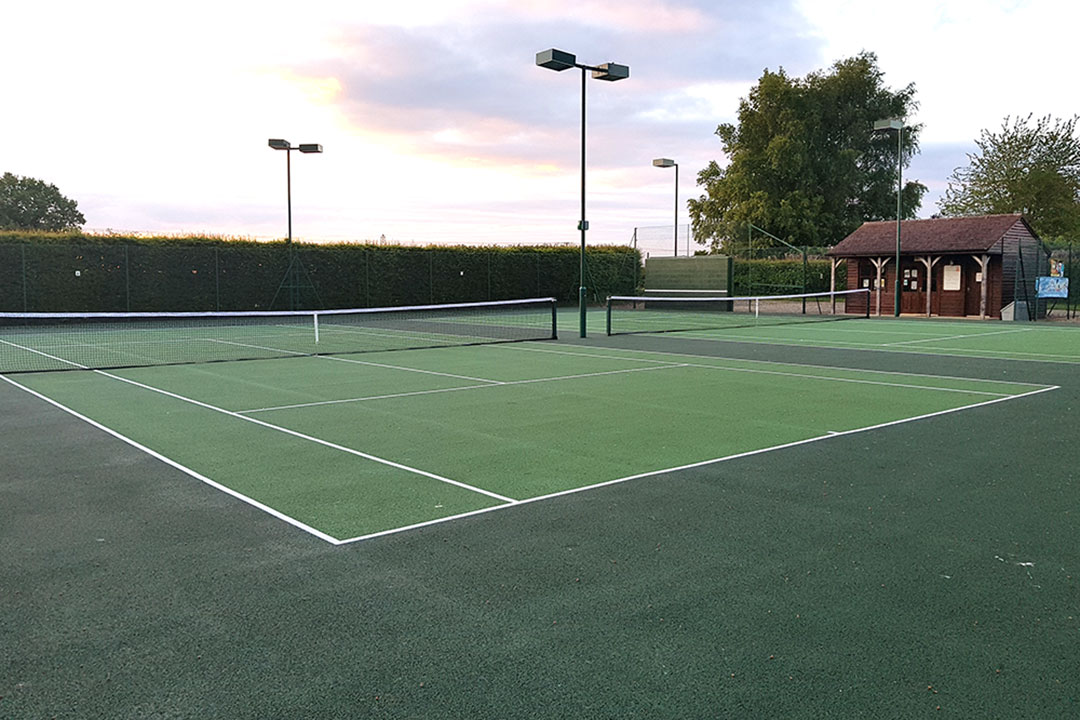 ---
How to find us
Appleton with Eaton Tennis Club
Badswell Lane
Appleton
Oxfordshire
OX13 5JN

Get directions