An Appreciation
Fri, 12 Jun 2020 00:00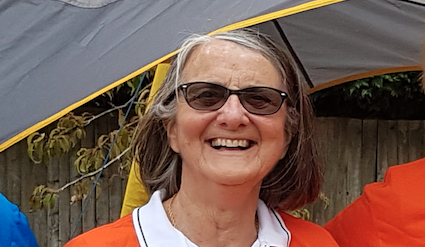 Retirement of Margaret Hakim as Club Chair, Karyn Claridge as Membership Secretary, and Steve Claridge as Treasurer.
Margaret Hakim has been associated with Biddenham Tennis Club since its establishment thirty years ago.
Margaret together with her husband and a few other tennis playing couples and other individuals were founder members of Biddenham Tennis Club. She has been a committee member, Membership Secretary and latterly Chair of the club. Her fount of knowledge, efficiency and organisational skills combined with her great love of playing and supporting tennis in Biddenham has contributed to the smooth running and enjoyment of tennis in the village.
Margaret has supported all activities and functions of the club over the years. She helped with organising many enjoyable and fun American tournaments in May each year. She always helped with food preparation and the raffle at the very successful annual Tennis Club BBQs. During this time Margaret was also Headteacher of a local primary school as well as being heavily involved in her own village activities. Last September saw her helping at the 'Big Tennis Weekend' event with good humour and for several hours in the pouring rain! This year has seen Margaret managing tennis during the C-19 crisis, lock down and its subsequent easing. This has been a daunting and time consuming task for which she deserves much praise.
Karyn Claridge, a non playing club member is also retiring from the committee after serving for a number of years as an extremely efficient Minutes Secretary and Membership Secretary.
Also retiring from the Committee at this time is Steve Claridge. A thoroughly competent and reliable Treasurer for many years and one who could always be relied upon to give sound advice and bring a sense of humour to every occasion.
The number of hours given voluntarily by them all is huge and especially over the last few months.
Thank you and a very Happy Retirement to you all!