Brabyns Lawn Tennis Club News
Keep up to date with news and events at Brabyns Lawn Tennis Club by following us on Facebook
14 January 2021
Click here for the latest edition of the club newsletter.
2 December 2020 - Facilities update
Courts 1 and 2 have now been re-laid with an and all-weather surface and new floodlights have been installed. We now have a total of 5 all weather floodlit courts. Members and non-members can book courts through the court booking section of the website."
4 October 2020 - Autumn is here...
Many thanks to Louise Robertson for this photograph of Courts 5 to 7 looking fabulous in the sunshine.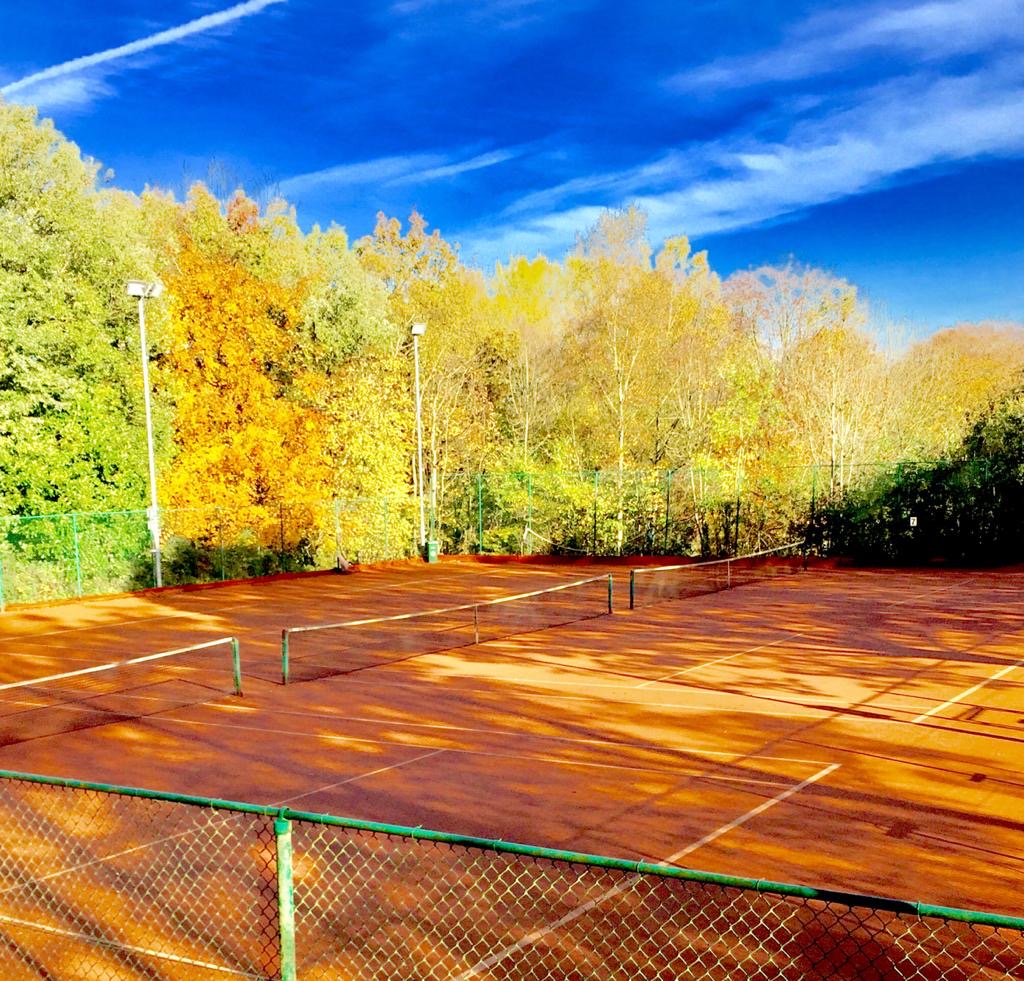 2 October 2020 - Facilities update
The floodlight on court 7 has been repaired.
Week commencing 5 October will see final preparations on Courts 1&2 so that the first layer of tarmac can be laid the following week.
The new floodlights on Courts 1&2 will be fitted on Thursday although it will be a few weeks before the cabling work through to the clubhouse is completed.
30 September 2020 - Health & Safety Reminder
Please remember under Covid regulations, you MUST book before you play - be that a court booking or booking onto a social session. You should never just turn up and play without a booking. Please help ensure the club operates within the guidelines.
16 September 2020 - Court Replacement Update
We are delighted to confirm that work to resurface courts 1 and 2 and install floodlights has started.
Work commenced on Monday 7th September. Platt Construction are on site and will lay the new surface with the floodlights being installed by Exclusive Leisure. Both companies have worked together before on similar projects.
If all goes to plan the new courts should be ready for play by mid-October and the floodlights installed by mid-November. But the work is weather dependant so there may be some delays
The work will be done in stages and there may be gaps between them when nothing much is going on.
1 Clearing the courts and laying the subsurface
2 Erecting the floodlight poles and preliminary electrical work
3 Laying the porous tarmacadam
4 Painting temporary lines and re-installing the nets (by mid-October)
5 Installing the floodlights (by mid-November)
6 Final painting of the whole surface with permanent lines (Spring 2021)
The contractors have agreed to park their vehicles on the grass verge by the side of courts 1 to 4 from where they will gain access to the courts. Members will therefore be able to use the car park as normal although lorries removing and delivering materials will almost certainly need to turn their vehicles around in the car park and so there may be some disruption and people may need to move their cars to allow this to happen.
The contractors are aware that clubhouse is closed except for use of the toilets and that they should always sanitise their hands before entering the clubhouse.
Members will be kept up to date via the Brabyns Lawn Tennis Club Facebook Page and regular emails regarding progress with the work. We are hopeful that everything will go to plan and there will not be any unforeseen problems.
Should you have any queries regarding any aspect of the works, please contact Peter Farrell Brabyns Lawn Tennis Club or telephone 07941 388816.