Playing
We operate a court booking system, so you can select your own time to play. All play must be booked in advance.
Once you are registered club member, courts bookings can be made through either the ClubSpark Booker app or through the Book a Court page on our website. Bookings are available to view online and can be booked 7 days in advance. In the event that you are unable to play, the court must be cancelled, so other members can make use of the court.
Outside of club sessions, members are welcome to book a court for a game of singles or doubles.
---
The court should be vacated promptly at the end of your session. If you use one of our artificial clay courts, please ensure that you allow enough time to sweep it in preparation for the next set of players - see below.
---
Practice Wall
Our Practice wall is situated on mini-court number 1 and requires a court booking. If you do use the court, please ensure that you replace the mini tennis net and posts.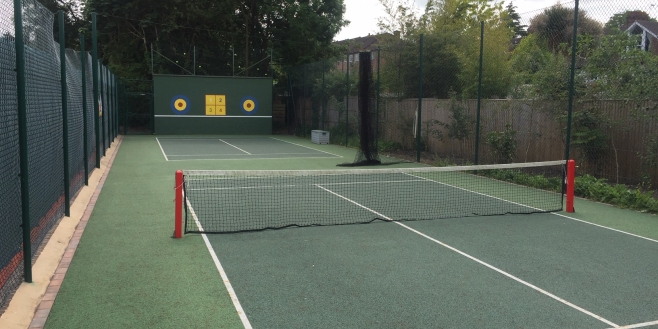 ---
Need a Playing Partner?
If you're new to the club and looking for a game, our coaches will be pleased to introduce you to both full and midweek members of similar standard.
---
Artificial Clay Courts – Court Maintenance After Play
Every time you finish playing, the 'clay' must be levelled out over the court so that it completely covers the carpet underneath.
Sweep each half of the court, including the back (between baseline and fence), using the clay drag-mat in the following pattern: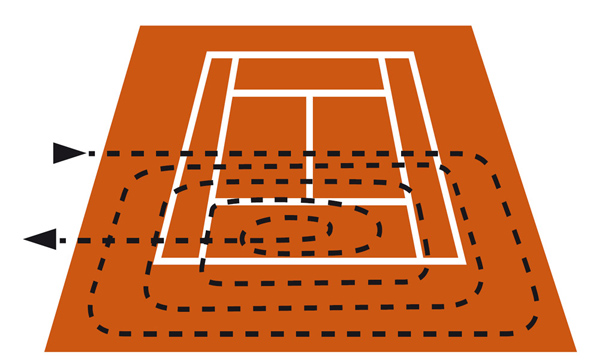 Ball Machine
The Club has a ball machine which is available for free to adult members. If you would like to use it please ask Ian, our coach, for a demonstration. The pressureless 2-tone balls should be used with the machine. Please don't use it if the courts or balls are wet.