Winter Leagues 2022/23: After consultation with the summer captains we shall be entering 2 two pair teams for both ladies & men & 1 two pair veterans team for both ladies & men. If anyone is interested in captaining a winter team, please contact the Club Captain, Nigel Osborne: [email protected]/07866415267 Please see guidelines for team selection here >> July 17th
Wimbledon Tournament - We had an enjoyable & well attended club tournament to celebrate the Wimbledon Championship and a special thanks to Paul Williams for all the hard work he puts in to organise these events! In the competition from 10.00am - 12.00pm congratulations go to Sarah (I've got a bad shoulder!) Penketh who won the most games out of the ladies who participated with Clare Davies being the runner up. For the men, Ian Duggan was the highest scoring male & Steve Wallace was runner up.
In the 12.00 pm - 2.00pm session, Christina Flores was the highest scoring lady, with Jenny Lord a close second. For the men, Peter Lowe was the highest scoring man, (again!) with second place being taken by Simon Stratten (again!). Congratulations to everyone who participated. July 16th
Wimbledon Grand Slam Sweepstake - Congratulations to the winners:
Jane Tromans £20 - winner Elena Rybakina
Annie Owen £10 - finalist Ons Jabeur
Lauren Lloyd £20 - winner Novak Djokovic
Sue Hill £10 - finalist Nick Kyrgios (paid back to the club)
Anyone wishing to participate in the remaining Grandslam Sweepstake for the US Open should pay a multiple of £1 (max £10) to the club account (see below) referencing surname and GSD. Thanks! July 17th

Bank details:
Lloyds Bank
30-91-18
01806723
Cowbridge & District Athletic Club - tennis section
Magic Little Grant - Thanks to the People's Postcode Lottery for a Magic Little Grant of £500 to add bat, bee and bird boxes to improve the habitat for these creatures on our site & to satisfy one of the conditions of planning permission for the new tennis court. July 12th
Welsh Church Act Fund - The Trustees of the Vale of Glamorgan Council Welsh Church Act Fund have agreed to support our efforts to improve our community tennis facility with a grant of £5,000. Many thanks to the Trustees of the Welsh Church Act Fund. July 6th
Planning Permission for New Tennis Courts - The Vale of Glamorgan Council have granted permission for construction of two new all weather tennis courts with associated works. June 28th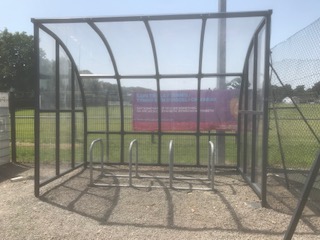 Bike Shelter & Stands - Our bike shelter & stands have been installed & we hope that more of the cyclists among us are encouraged to 'hop on their bike' & come to the club as a result. A huge thank you to Legal & General Propert Unit & their team who donated the shelter & rack, transported and erected it for us for free! An amazing act of community spirit! Thank you to Simon Wilkes, Dave & the boys!
Machu Pichu Adventure for Prostate Cymru - One of our members is undertaking a trip to Machu Pichu to raise funds for Prostate Cymru. Warren Davies is asking for contributions and says ' 1 man dies in the Uk every 50 mins of prostate cancer! 1/8 of us will get it! I'm helping raise money and would be grateful for any contribution- you may be need it one day! 100% of contributions go to Prostate Cymru. Thanks everyone!' To donate to this cause follow this link:
https://prostatecymru.enthuse.com/pf/warren-davies
June 22nd
Tennis Fencing Repairs & Replacement - During the week commencing June 27th the tennis fencing alongside the rugby pitch is scheduled to have work done on it to install stronger & taller posts to allow ball netting to be put above the tennis fencing. The work is now likely to take two weeks. Apologies for any inconvenience. Thanks has to go to the People's Postcode Lottery for a Magic Little Grant & to Sport Wales for contributing towards the cost of the repairs. June 22nd
Public Access Defibrillator - We have received our defibrillator, placed it in the cabinet and registered it on the British Heart Foundation's web site, 'The Circuit', which manages public access defibrillators in Wales. The access code for the cabinet is C1932. We are now looking for defibrillator guardians who will be responsible for the maintenance of the machine and cabinet. If anyone is interested in this role please contact Richard Owen/07974770689 or Liz Lewis/07905168102.
If someone is unresponsive, the most important thing is to perform CPR . You can find British Heart Foundation CPR training videos here.
If you're on your own, don't interrupt the CPR to go and get the defibrillator. If it's possible, send someone else to get it. The code for the cabinet is C1932.
You do not need training to use a defibrillator. Although they can vary, they all function in broadly the same way.
The device gives clear, spoken instructions and will not deliver a shock unless it is needed.
If you would like to have a look at how to use a device, there is a video available on the BHF website. April 20th
Ball Machines: There are two ball machines in the clubhouse for adult members to use. One is the red lobster machine and the newer one is the blue Slinger Bag. First thing to do is request an induction session from Allan or Richard by emailing [email protected]
Then, to sign up to use the ball machine, all you need to do is:
pay the £5 fee for using the machine for 1 hour by credit card. This payment is to supply balls for the machines.
to book, you need to book your court session first as usual, then book one of the 'Ball Machines' for up to one hour at the same time as your court booking. All this information and more can be found on the Ball Machine page here >>. Jan 31st
Walking Tennis: For more information & to register please contact Richard Owen - [email protected]/07974770689
Walking Tennis is a new form of tennis that is inclusive and can be played by anyone who can walk and hold a racket. The first session is free and further sessions will cost £5 per person. This is an outdoor class & racquets will be provided. Cowbridge Tennis' Walking Tennis sessions are supported by the LTA & Tennis Wales via the Open Court Programme. May 26th