Welcome to
Crawley Lawn Tennis Club
Introduction
COME TO OUR OPEN DAY - SATURDAY 12th MAY
11am - 2pm
Book Online www.lta.org.uk/GBTW lots of activities for the whole family
Oh, It Looks Like It is Going to Rain.....
Not a problem at Crawley Tennis Club as we have THREE INDOOR TENNIS COURTS..........come and have a look!!!!
If you would like to come and visit the club to see what we have to offer we are more than happy to welcome you. Coming and have a free hit to see what you think of the club or just come in and visit.
Want to play tennis inside, then come to CRAWLEY TENNIS CLUB where we have the DOME facility to play in the dry whatever the weather is doing outside. You can play in the rain, snow and frost without a problem. For further details please click on the MEMBERSHIP where you will find out more.
More details about the club:
Crawley Tennis club has many exciting facilities to offer in the Crawley and Gatwick area including 3 indoor tennis courts and 6 outdoor tennis courts, two of which are floodlit. Added to that there is a club house with a licensed bar in which monthly events and competitions are held. Current events planned include an Open Day, take away Curry Night, Dave Carrol Easter Tournament, Summer BBQ, quiz night and of course tennis competitions.
The club is always keen to welcome new members and there is the facility for non-members to book a court during off-peak times.
So come along, join us and have some fun for the summer. To find out more check out the Joining Centre page on this site or contact one of the number below:
Alternatively pop down to the club where one of the members will be happy to supply you with all the information that need, here is our address
CRAWLEY LAWN TENNIS CLUB, Hazelwick Avenue, Three Bridges
Crawley, West Sussex, RH10 1NP
follow us on facebook
ONLINE COURT BOOKINGS
If you are a member and you want to book one of the 3 indoor courts please click on the link below:
CLUB SESSIONS
There are many club sessions running for various levels so please come along to find out more details, times below:
Sunday 10:30am - 1pm
Tuesday 6:30pm - 10pm
Wednesday 10am - 1pm
Thursday 6:30pm - 10pm
Friday 10am - 11am
SENIOR AND JUNIOR CLUB CHAMPIONSHIPS
Please check out who you are playing on the Senior and Junior Club Championships
Starting Monday 7th May - Finals Day Saturday 15th September
Sign up in the Clubhouse or email the club to be added. crawleyltc@hotmail.com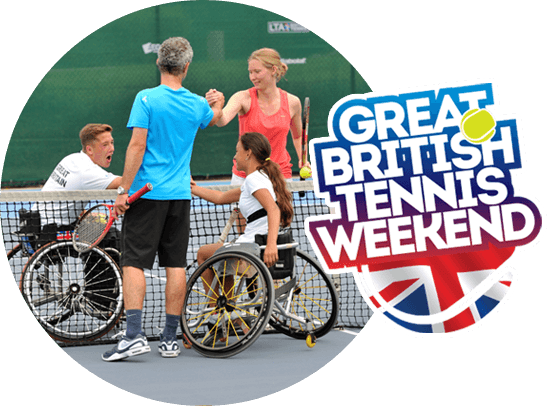 We're hosting a Great British Tennis Weekend event!
Try tennis for free this summer at a Great British Tennis Weekend event! Rackets and balls will be provided, so whether you've never picked up a racket before or you're a seasoned regular – there is fun to be had.
How to find us
The Pavilion Hazelwick Avenue Three Bridges Crawley West Sussex RH10 1NP
Crawley Lawn Tennis Club
The Pavilion
Hazelwick Avenue
Three Bridges
Crawley
West Sussex
RH10 1NP

Get directions