Club Social Sessions:
Tuesdays - 6.00pm - 10.00pm
Thursdays - 6.00pm - 10.00pm
Fridays - 10.00am - 12.00pm
Sundays - 2.00pm - 5.00pm
Quiz Night - Friday November 19th
Thanks to everyone who attended this sold out event which helped to raise additional funds for the club.
New Year's Day Tennis
What better way to start 2022 than with some social tennis!
Mix in and play from 11.30am.
Refreshments rpovided.
Internal Club Tournament - Congratulations to all our 2021 finalists.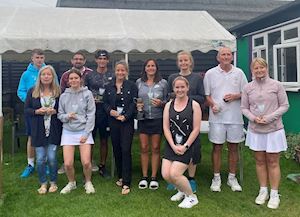 Inter-club Competitions
We participate in the Essex National League and South-West Essex League with a number of Mens, Ladies, Mixed, Juniors and Vets teams.
Please enquire at the club if you are interested in playing in either Summer or Winter leagues.
Contacts for Adult Teams:
Rob Thwaites for Men's Singles & Doubles
Christine Blissett for Ladies' Doubles
Ian Howes for Mixed Doubles
Please contact coach Steve Russell for Junior matches.
Home Match Schedule / Court Availability
Please note that 2 or 3 courts will be in use during home matches. The home match schedule is posted on the club house whiteboard.