Club Social Sessions:
Tuesdays - 6.00pm - 10.00pm
Thursdays - 6.00pm - 10.00pm
Fridays - 10.00am - 12.00pm
Sundays - 2.00pm - 5.00pm
Upcoming Events:
Sunday 5th June: Jubilee celebratory afternoon tea from 2-5pm
Sunday 3rd July: Wimbledon afternoon to watch and enjoy the championships and play some tennis.
Internal Club Tournament:
Congratulations to all our 2021 finalists.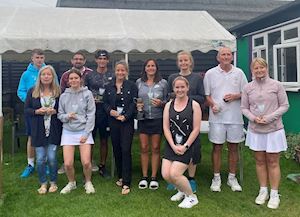 Inter-club Competitions:
We participate in the Essex National League and South-West Essex League with a number of Mens, Ladies, Mixed, Juniors and Vets teams.
Please enquire at the club if you are interested in playing in a team.
Please contact coach Steve Russell for Junior matches.
Home Match Schedule / Court Availability:
Please note that 2 or 3 courts will be in use during home matches. The home match schedule is posted on the club house whiteboard.