Coaching
Our Coach is Georgi Gechev
Coaching background: Georgi has been coaching tennis for many years and have a keen interest in developing our junior players and programmes, with many going on to become key team players and club champions. Georgi enjoys working with all ages and abilities.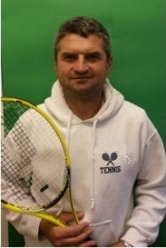 GEORGI GECHEV
Plays: Right Handed
Style of play: Serve and volley
Favourite shot: Forehand Slice
Qualifications
PTR Associate
LTA Accredited Coach
Safeguarding & Protection in Tennis
Emergency First Aid at Work
DBS Check
Responsibilities
Delivers group sessions on both the junior and adult programmes
Delivers individual lessons to both juniors and adults
Provides a racquet restringing service
Tennis History
Been coaching at Ewell for over 10 years
A Junior and member favourite
Enjoys coaching players of all ages and abilities
Coaching Information
Junior group coaching is held on most Saturday mornings throughout the year.
JUNIORS
Free Junior Group Coaching – held on most Saturday mornings throughout the year. This develops a range of skills and builds on correct technique for each stroke. The lessons are designed to be fun and enjoyable, mixed with structured tennis, coaching and development. The coaching is tailored to help the juniors with their technique, contact points, match strategies and footwork. Contact us for details and arrange a free trial for your little one.
Individual Coaching is available and should be aranged directly with Georgi.
ADULT
Throughout the year the club organises block group coaching sessions for beginners, improvers and expereinced players which members can sign up for.
Individual or Group Coaching can be arrange directly with Georgi.