Ladies Tennis
The final league positions for the 2019 summer season are currently being decided. The first definite result is a good one with the 4th team winning their league and gaining promotion to the 4th Division. The 2nd team have their final match on Wednesday 14th August at home and a win could see them promoted to the 1st Division. Please come along and support them. The 5th team (who were promoted last season) have done really well to come 3rd in their league.
Photo shows the regular members of the Helen Cole Winter Team who are currently winning Division A. From left to right - Jenni Hill, Andrea Bryne, Jess King and Nim Bhanabhai.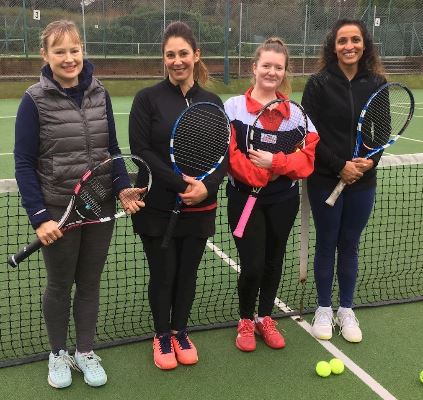 Latest result: Pleased to report that the Cup & Saucer team, captained by Helen Westlake and Claudia Wenk, finished third in their league just one game behind the runners up. Well done to all those who represented the club in this day time competition.
Photo to the right shows Helen Durrans receiving the Most Improved Lady Tennis Player 2018. Nim Bhanabhai and Andrea Byrne were also nominted.
Four Oaks Tennis Club provides a wide range of opportunities for ladies of all ages and playing abilities to enjoy inter-club competition. During the summer we enter five teams in the Birmingham league and one team in the Metropolitan league. We also enter the popular Cup & Saucer league played in the daytime during the week. During the winter months we enter two veterans' teams in the Birmingham league and one team in the Helen Cole league.
Below are the results for the summer 2018 season.
1st team - promoted - Captain Kate Bell
2nd Team - 4th place - Tracy Buckton Brown
3rd Team - 3rd place - Chris Clewer
4th Team - 4th place - Anna Foster
5th Team – promoted - Maggie Smith
6th team - mid-table - Maggie Smith
Cup & Saucer team - mid-table - Claudia Wenk and Helen Westlake
Thanks to all the captains for organising their teams so efficiently.
The captains for the 2018/19 winter season are:
Alison Gledhill - Ladies Vets 1
Sheila Ansell - Ladies Vets 2
Paula Maxwell - Helen Cole League
Team Selection Criteria
These criteria are to help you understand what is required of a team player.
Skill
Good level of stroke play – forehand, backhand, serve and volley
Ability to sustain a rally (steadiness can win matches!)
Willingness to improve your skills
Fitness
Stamina to play four sets plus tie breakers without loss of form
Speed around the court
Commitment
Good availability for both home and away matches
Willingness to take on some responsibility within the team
Willingness to try out new partnership
Experience
Previous successes will be taken into account
Players with little or no experience of match play will be advised on how to improve their game
Determination
Ability to play pressure points well
A good "want to win" attitude
If you want to track the progress of our teams throughout the season, please click on the link below:
If you are interested in playing for the teams or would like more information, please contact our Ladies' Captain Paula Maxwell by email on maxwellhome100@gmail.com