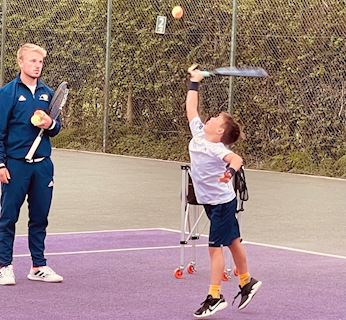 We have a thriving junior section and new members are very welcome. Tennis is a great game – it's both competitive and social. It's both individual and team. It's one of the few sports where boys and girls can play against each other. Learning the game as a child can provide your son or daughter with access to a sport that can last them all their lives! And of course, it's another way of keeping fit!

Coaching programmes
We have comprehensive 'LTA Youth' programmes for:
- Mini tennis (ages 4-10)
- Junior tennis (ages 10-17)
Please go to the 'Mini Coaching' and 'Junior Coaching' pages for more information.
Holiday Programmes
We also offer half-day tennis 'camps' in the major school holiday breaks. The age range is from 6 to 16 years old. Courses can suit any ability level. For more details, see the 'Holiday Camps' page above or contact [email protected]
Club Membership
Joining the club as a 'mini' or 'junior member' has lots of benefits.
Age 4-10: go to the 'Mini Membership' page above for more information.
Age 10 -17: go to the 'Junior Membership' page for ten great reasons for becoming a junior member of our club! Playing more tennis! Fun Friday social sessions! Inviting your friends! Tennis balls provided! Save money with discounted fees! And lots more....go take a look!
Mums and Dads - become 'mini parent' and 'junior parent' members to practise with your kids and to play family tennis at our club! There's more information on the membership pages.
Safeguarding and Codes of Conduct - our safeguarding policies can be found in the Governance section of our website - please click on 'More'. This section also contains our Code of Practice for Parents and Guardians and our Code of Practice for Young People. Our Junior Access Policy can be found in the 'Other Policies' folder.