Club
LWTC News and Updates
Tue, 16 Apr 2019 00:00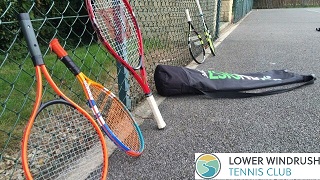 So the 2019/2020 Tennis season is now upon us. Hopefully we can look forward to long sunny days on court between the BBQ's and Pims. (Always the optimist).
It is great that we have some first time members joining us this year - Welcome! We hope you find lots to interest you within the club. You can contact me or any of the committee for information and assistance as you settle in. Please email: sandie@lwtc.org.uk or Tel: 07739964478. Coaching is available through the Excel Tennis Academy. And for all Members don't forget the 10 Free Cardio Sessions that start after Easter. I will confirm dates and times via email shortly.
The Wimbledon Draw has now taken place and the lucky winners will shortly be informed (if they don't already know) As always your names will not be published to avoid begging letters and pledges of new found friendship. Well done to the lucky ones.
There will be events happening throughout the year including some club tournaments. Look out for notifications via your email and on Facebook. Main events will include Men's Singles, Men's Doubles, Ladies Doubles and the very popular Mixed Doubles. We also have the annual Black Sheep Cricket event should you wish to swap bats for the day. (I believe at least one of our new members is a bit of a cricketer?) Don't be shy about getting involved these events are all very sociable and great fun. Look out for dates in your emails.
The Committee hasn't changed this year - the same quintet meeting in the Black Horse every couple of months. It's not too arduous but it would be great to add some new faces and perhaps input new ideas to ensure the club remains an asset to the village.
Please note that for the most part News will be published on our Facebook page so please check it out and if you are into social media "Shares" and "Likes" are always welcome.
That's about it for now - I look forward to seeing you all on court soon.
Sandie