Head Coach - Jonny Healey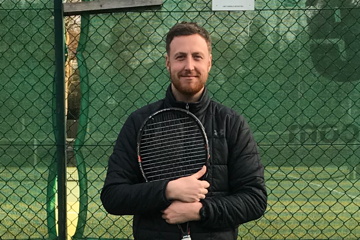 Jonny's Coaching Philosophy:
To provide coaching for people of all ages and abilties in a fun and welcoming environment, improving their skill levels along the way.
Jonny is a fully qualified level 3 tennis coach and has coached at many of Cheshire's leading tennis clubs over the last ten years. Jonny has vast experience in coaching juniors and adults of all levels, and specialises in tots tennis with his franchise Tennis Tykes. Jonny played for Cheshire as a junior and currently plays team tennis in the Cheshire's Division 1, he has also coached many high level team tennis players.
Jonny does coaching sessions at the club on a Tuesday and Friday for juniors, with highly experienced Steph McClure doing Saturday sessions. Coaching sessions for Adults are on a Thursday morning currently, with individual sessions also available. Please see the coaching page for more info.
Contact Jonny on - [email protected] for more details or to book a session.