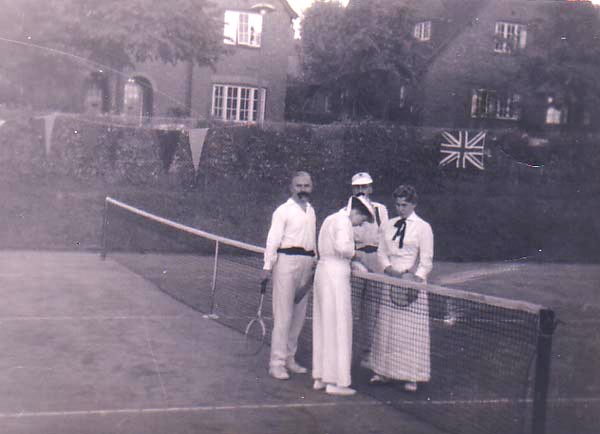 Moorpool Tennis Club – Established 1910
Club History
Tucked away behind the hedgerows on Moorpool Avenue near the junction with Margaret Grove lies Moorpool Tennis Club (MTC) and its two shale courts on two different levels. On the clubhouse walls are the champions boards of winners of in-house competitions dating from 1948 up to the 1990s, but the club began one hundred years ago in 1910. Former Chair and longstanding member, Ken Wormald reminisces about the time when he joined back in 1960. "Back then it was a very active club with over 50 full members and a waiting list for people to join". In fact, you had to play a set to be tested and deemed good enough to join and the irony is that Ken didn't pass at his first attempt, but always determined, he tried anew and is now himself celebrating his half-centenary at the club. His past initial fail is long forgotten as his name and that of his late wife, Kathleen, appear regularly on those doubles champions lists from yesteryear.
A former Secretary of the club and long-standing member, Sue Lilleman, joined the club as a junior when they were eligible to join automatically. "Saturday and Sunday afternoons were very busy", remembers Sue "and you were lucky to get two sets in all an afternoon! Club tournaments were well supported and the finals day a great event. We held a huge party at Christmas, hiring rooms for the purpose. We had treasure hunts and beetle drives." Today the club may be missing such social events from the past, but for club members the tennis comes first and it is relatively busy on club nights on Tuesday evenings from the Spring right through to mid September once the light begins to fade. Sunday mornings are popular throughout the year and members have been known to scrape away the snow or to sponge away the rainwater to be able to get in a set or three in chill temperatures.
Despite being a small club in this millennium, we still manage to field a ladies team and a men's teams in local leagues, as well as a mixed team in the Metropolitan League. Sue Lilleman remembers that in a previous era after team match sessions "The ladies provided the tea and waited on the men as they did for the men's match teas." How times have changed! We still hold out team teas in the bijou clubhouse which Sue Lilleman's father helped to build. Her mother, too, was an active member of the club and a keen tennis player.
Sue had looked into the pre-war history of the club at the library and found the book Steve Beauchampe wrote called "Sport in Birmingham". In there she found a photo of the bottom court and underneath a mention of the club and that there was a bowling green on the site originally. Sue also discovered some old documents about the beginnings of the estate and a piece about a tennis court and the bowling green being there "to provide recreation for the people of the estate", or words to that effect. These days Sue spends part of her time in Majorca running a family restaurant and has been spotted rubbing shoulders with the likes of Rafael Nadal! However, she returns to her spiritual tennis home of Moorpool – and to lesser but no less gritty competitors than the Spanish number 1 – to help keep the club running.
Pictures from the club archives show that the club invited the Mayor to celebrate the club's 50th anniversary in 1960. Fast forward another half-century and the club has survived recent plans to be moved (removed?), thanks to pressure from former local residents and the former local MP, Gisela Stuart. It lives on thanks to the hard work and the commitment of its regular members.
If Andy Murray, Emma Raducanu, Heather Watson, Cameron Norrie, Dan Evans, Jamie Murray, Joe Salisbury, Neal and Ken Skupski's recent successes have inspired you, or if you just fancy dusting off your rackets and playing some competitive tennis throughout the year, join Moorpool Tennis Club to hone your groundstroke skills on our gentler paced, easy on the knees shale courts. You'll be assured of a warm welcome.
by Charles Harry, Chair of MTC.
Contact JOHN LEWIS [email protected] or call on 07715 173236 for membership details.
You can follow us on Twitter
https://twitter.com/moorpoolclub