Coaching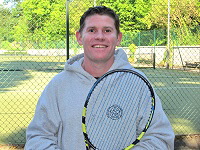 Coaching at Mortonhall, 1 to 1 lessons and small groups is allowed under current Covid rules. Please feel free to contact Dan to book a lesson. Junior Coaching is also offered and details of current classes are below:
Winter Term Group Classes start w/c 25th January 2021.
Please find information and a booking form below:
Adult and Junior coaching is available at Mortonhall under the management of our Head Coach Dan Murray, a highly experienced and regarded coach. Programmes run after school and in the evenings. Dan also runs Active Schools sessions for local schools helping to encourage new players into the game.
Dan has developed a thriving coaching programme at the club as well as strong links with local schools.
Private Lessons/Small Group Lessons:
Dan is also available for booking for private lessons, either for individuals or for small groups (e.g. 2 or 4 people). All private lessons cost £25 per hour. To book a private lesson, please contact Dan directly using his contact details below.

Contact Dan Murray on
Mobile: 07875 192530
e-mail: [email protected]