Squash Coaching

Junior Training Sessions
Thursday
16:00 - 16:45 Beginner
17:00 - 17:45 Beginner
18:00 - 18:45 Intermediates as of Nov 2021
Saturday
09:00 - 09:45 Beginner
10:00 - 10:45 Intermediates as of Nov 2021
11:00 - 11:45 Beginner

Fees: £6 NTSC members, £6.50 non-members
Booking essential with fees payable half termly in advance via bacs. Subject to available space, occasional drop-ins are sometimes possible at £6.50 per session. Please be aware that some groups are full.
The typical session will begin with a short warm-up followed by a technical section (eg demonstration and practice of a shot) before playing some games (either ¾ court or full court depending on numbers/ages at the session).
From season 2022 we will be running a Nutley team in the Sussex SRA Junior Squash Leagues for the improvers and intermediates. These players will also be invited and encouraged to take part in additional competition events.
Please don't hesitate to contact us for further information or if you have any suggestions.
Ladies Only Squash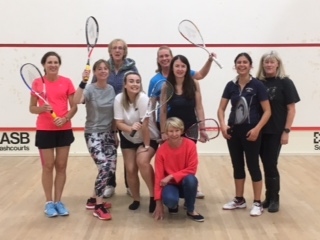 We are one of the few clubs in the area who offer ladies only Squash training every Wednesday from 6.45 – 8.00pm. *£5.00 per session.
Whether you want to use squash to get active and improve your fitness, or progress your skills for recreational or competitive play, these sessions are a lot of fun and we have regulars of both mixed ability and ages!

Competition Level Squash
For all our squash members there is also the potential for opportunities to compete in ESR sanctioned tournaments and to progress into county training squads.
One on one coaching
Contact Allan Curtis 07718 320184 to discuss your individual lessons requirements.
Safeguarding
Nutley Tennis and Squash Club (NTSC) acknowledges the duty of care to safeguard and promote the welfare of children and adults at risk. The club is committed to ensuring safeguarding practice reflects statutory responsibilities, government guidance and complies with best practice and LTA requirements. A copy of the club's full safeguarding policy is available from Valerie Williams [email protected]