Social
The 2021 Prosecco Cup is here!
Sat, 24 Apr 2021 00:00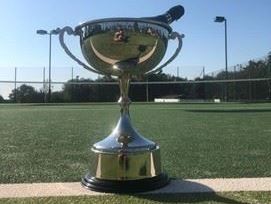 The 2021 Prosecco Cup is here!
Round 1 Bank Holiday Monday May 3rd 2021
Coffee and Donuts from 1000am
Play Starts 1030-1230
It's the Biggest Cup (literally) in the history of PLTC and it could be yours in 2021. Will your name be engraved alongside winners Jenny Booth 2019 and Mark Howell-Jones 2020? YES….if you play in the 2021 Prosecco Cup.
PLTC's unique social tournament will this year feature 3 rounds on 3 Bank Holidays:
Monday May 3rd
Monday May 31st
Monday August 30th FINALS DAY
Rules
There are 24 playing spaces now filled by hungry cup-winning-wannabees.
And a few rule changes this year because after a year of rules we've decided we all really love them so….
Rule 1 – If you have entered …Turn Up!
Rule 2 – Wash your hands at least once for godsake.
Rule 3 - Get your Player Number and remember it – yep there are tough rules here
Rule 4 – Play 8 x 15 minute rounds of mixed doubles and give your score to the Chief Prosecco-er after every round when your number is called. Remember the games you win are a personal score. You are not playing as fixed pairs. It's every man/woman/they for themselves.
Rule 5 – Sudden Death Deuce (which is not as traumatic as it sounds!)
Rule 6 – When instructed after each round rotate to another court as instructed. Play starts and finishes with a klaxon.
Rule 7 – Individual Round winners get Prosecco Prizes
Note 1 – Tennis themed costumes are looked upon very, very favourably by the competition organisers.
Note 2 – All play complies with the standardised Welsh Johnson Drakeford Tennis Rulebook which broadly means all rules are subject to change for no reason last minute and are often difficult to understand and full of contradictions. The Head Prosecco-er's decision on any violations, including foot faults and inappropriate social distancing, are final. No back chat. We know who you areJ
Also note that each Bank Holiday requires separate entry and you are not guaranteed a place until the draw is open and you are quick off the mark for subsequent rounds. Plan your holidays accordingly we say.
See you all on court and good luck.
The Social team
PLTC
April 2021