Coaching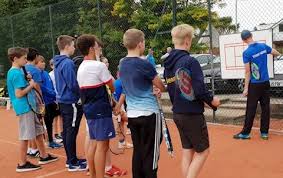 Our coaching programme is designed and delivered by our team from Tennis Squad:
Head Coach: Rob Wedlake
Lead Coaches: Tom Cole, Rob Gaunt, Tom Bellingham, Siwan Stephens, Rob Wedlake, Will Croft, Ellie Lewis
They provide a range of tailored solutions for our club needs including:
Short Courses - Seasonal offerings to grow the game amongst both new and regular players. See any upcoming courses in the booking system at the bottom of this page.
Squad Coaching - Year-round group sessions for juniors and adults to develop their game in a friendly and sociable environment.
Junior Mornings - Saturday activities for junior members.
Holiday Camps - Fun and games for kids in the school break.
Private Coaching - additional sessions to take your game to the next level.
Padel Coaching (opens Padel sub-site)
We run inclusive programmes. If you have specific needs please get in touch to discuss how we can help.