The History of QBTC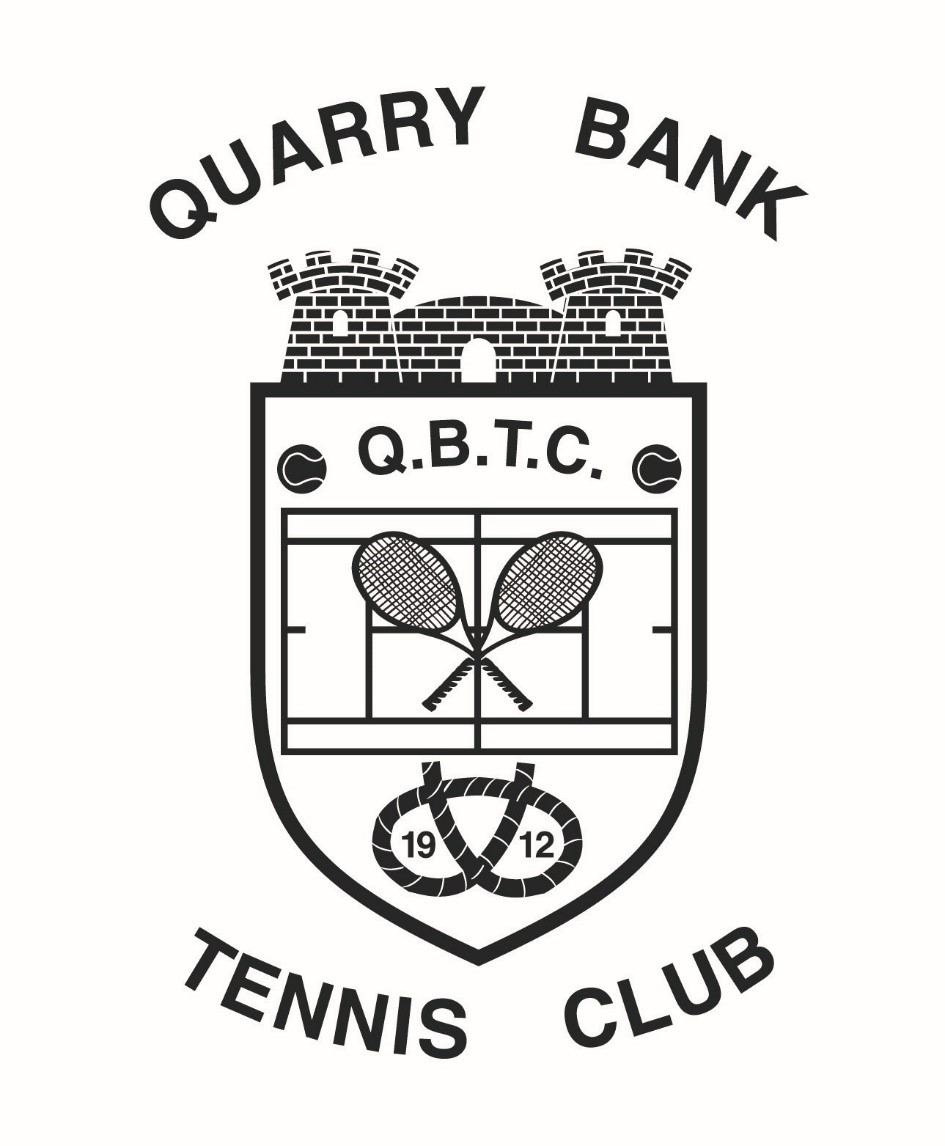 When the club was formed in 1912 it was known as Quarry Bank Cricket and Tennis Club and was situated in a field between Oak Street and Coppice Lane. It had 2 grass courts.
After the Great War it moved to Coppice Lane where there were 2 grass courts. A pavilion was built, and the members constructed a shale court using a heavy roller. A boy's senior school was built on the site in 1934 at which point the club decided to purchase its own land which is the present site at Merry Hill.
At this point the club had 3 shale and 1 grass court (which was later turned into a tarmac court). The club continued through the second world war and prospered afterwards thanks to a hard-working committee. During the 60's the tarmac court was converted to use as a car park. This was because of car parking problems on Merry Hill (the old, single carriageway A4036, before the Merry Hill retail developments of the late 80's). At this time the clubhouse was an antiquated wooden construction which lacked up to date facilities. However, after a number of years fundraising enough money was available in 1974 to construct a new modern pavilion with a kitchen, new changing rooms with showers, a bar and a meeting room.
The club continued to purchase small parcels of land around its periphery which enabled it to expand. In 1981, a car park was constructed on one of the parcels and a new entrance to the club was established via Talbots Lane, off Mount Pleasant. The old car park was then made into a shale court.
In 1984 an all-weather court was built on land adjacent to the car park and in 1985 floodlighting was added to the new court. In 1994 all 4 shale courts were replaced with artificial grass with financial assistance from the Sports and Arts Foundation and Dudley Council. The club itself met some £30,000 of the total cost. Floodlights were added to these courts in 1998.
In 1997 the club embarked on an ambitious expansion plan involving a new 2 storey clubhouse and 3 additional courts. Planning permission was obtained but unfortunately the bid (£360,000) for Lottery Funding was rejected.
In 2012 the tarmac court was de-commissioned and a knocking wall and 2 mini-courts built in its place. The new facility was opened by ex Wolves striker and Sky TV pundit, Don Goodman.
In 2015 3 out of the 4 courts were resurfaced with artificial grass. The project, costing around £38,000 was financed entirely from club funds and loans from members.
The club has always held a number of internal competitions as well as competing in the Staffordshire and Hereford and Worcester Inter Club Tennis leagues. At one stage in the 70's and 80's the Men's A team competed at the highest level and more recently the Ladies team won the Premier 1 division two years in succession, 2012 and 2013.Both these are amazing achievements when considering the size of the clubs that Quarry Bank are competing with and the resources that they have, both in terms of facilities and volume of members. For example, the main opposition for the Ladies was Wolverhampton Tennis Club. They had won the title for the previous 7 years and the club is many times bigger than Quarry Bank.
In October 2017 QBTC was successful in arranging a 4-year sponsorship deal with an award-winning local transport company, Pre Metro Operations Ltd. The sum, £10,000, was paid to the club up front and was used to construct a ramped pathway from the car park to court level. This replaced worn out steps and vastly improved accessibility for the elderly and less mobile, parents with pushchairs and wheelchair users.
In January 2019 the club featured in a BBC TV Midlands Today report about Dorothy Round, the Wimbledon Ladies Champion from Dudley. The reporter visited the club and interviewed one of the coaches and junior members.
QBTC has always viewed itself as a family orientated club with a competitive ethos. For many years Saturday teas, attended by members, relatives and friends, were a focal part of every weekend during the summer. The club has always recognised that it is an important part of the local community and has hosted the Black Country Olympics, Dudley Primary Schools tournaments, netball competitions and a touchtennis tournament that attracted players from all around the country, including world ranked players!
Several open days are held every year as well as a very popular bonfire. A number of fundraising and social events are held to which everyone is welcome. Charitable fundraising also takes place when members are collecting for a specific charity/event e.g. London Marathon.