DLTC - Coaching EVENTS
Dulwich Ltc will be hosting a various range of events in 2019 :
---
COACHING:
Spring Term dates: Monday the 7th of January-Saturday the 6th of April
February half term Holiday camps: Monday the 8th of February-Friday the 19th
Easter holiday camps: Monday the 8th of April- Thursday the 18th of April
Summer term dates: Tuesday the 23rd of April- Saturday the 13th of July
May half term holiday camps: Tuesday the 28th of May- Friday the 31st of May
Summer holiday camps: Monday the 8th of July- Friday the 16th of August
Autumn term dates: Monday the 16th of September- Saturday the 14th of December
October half term dates: Monday the 28th of October- Friday the 1st of November
---
SOCIAL/COMPETITIONS:
24th of March (9am-1pm): Adult and child tournament/ Demo racket day simultaneously
31st of march(12pm-4pm) MINI TENNIS FESTIVAL AT DULWICH LTC
CLICK HERE to sign up
Sunday the 14th of April (9am-1pm): Mixed singles Tie break tournament. Handicap will apply.
Sunday the 28th of April: 12&U Boys grade 5 County Tour tournament
Monday the 3rd of June-16th of June: Club championships
Saturday 3the rd of august 2019: Grade 5 8&U Mini Red tournament
---
SPECIAL ANNOUNCEMENTS:
We have started this week our Tennis Programme, running from January to April. We still have spaces available. Please contact us as soon as possible to secure your children's places.
Click this link to access the junior coaching programme webpage: https://clubspark.lta.org.uk/SebastienBlanchonCoaching/Coaching/Junior
We have reduced the tennis drills to once a week (Tuesdays at midday) with the Thursday evenings now being replaced by the ladies team training.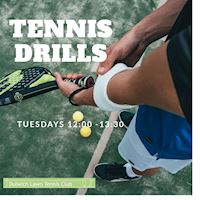 ---
Tennis Camp- February 2019
Join 5 days full of fun and tennis. Our Half term holiday camp is now open.
Click here to access the holiday camps webpage: https://clubspark.lta.org.uk/SebastienBlanchonCoaching/Coaching/Camps
---