DLTC - Coaching EVENTS
Dulwich Ltc will be hosting a various range of events in 2019 :
---
Free Demo Racket Day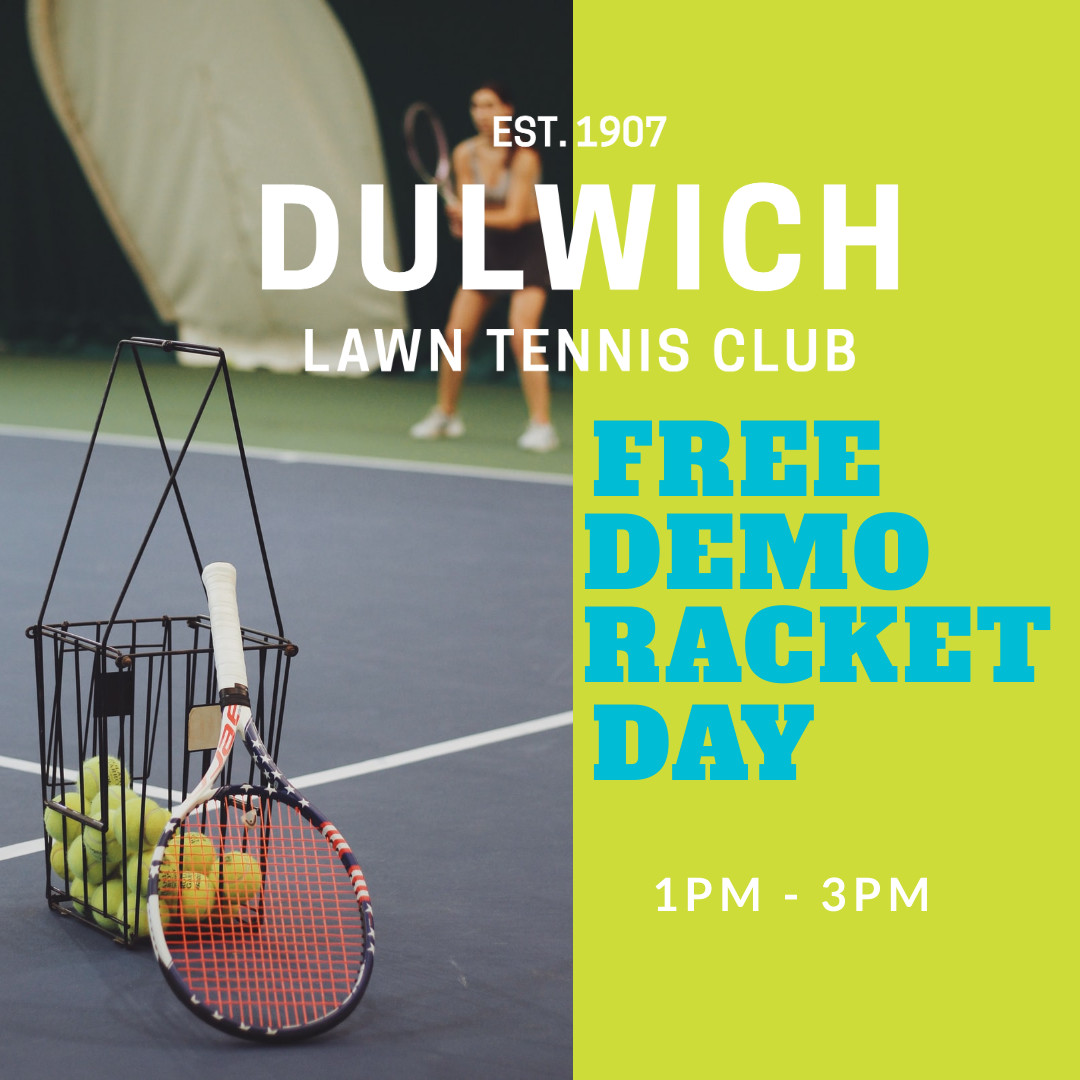 Please come on the 24th of April for our great Demo Racket day. You will be able to try different brands and models and get good deals on new and second hand rackets. Expert advice will be provided by our friends from Intersport Herne Hill. Come and try your future dream racket.
Nature Valley British Tennis Weekend

Come and try a tennis lesson for free!
Bring your family and friends and join us at Dulwich Lawn Tennis Club on Saturday 7th September 2019 from 10am to 2pm.
This is an event focussed on female players. All standards are welcome.
We will be offering a variety of free lessons on that day. Come and try our 45 minute class of Tennis Xpress/Beginner Tennis, She Rallies,, Team training/doubles practice, Team Challenge Festival. All new players welcome.
DEMO RACKET DAY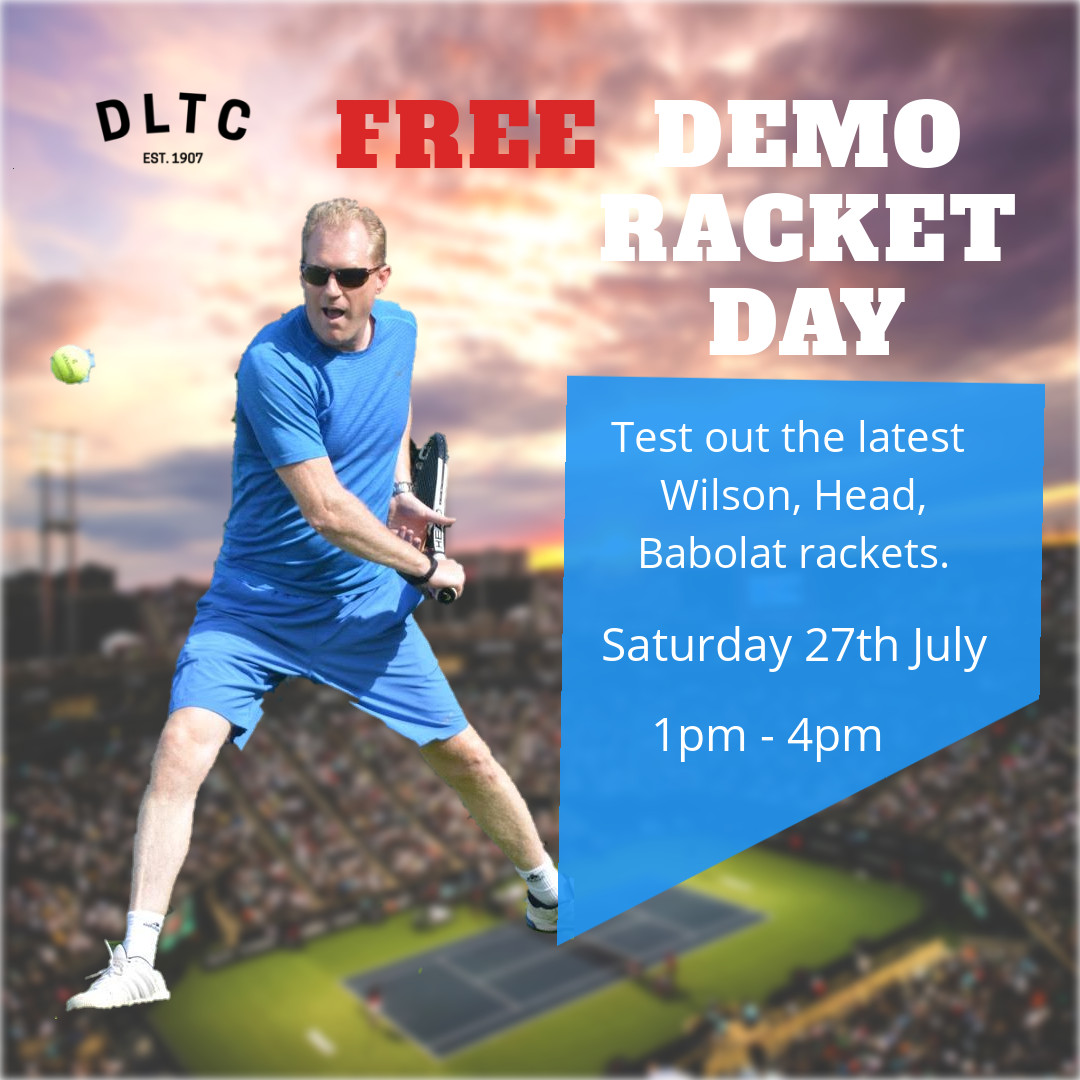 Dulwich LTC will be hosting a Free demo racket day on Saturday 27th July Come and try the latest rackets and get the best one that will suit you best! Expert advice will provided and special deals!
WIMBLEDON MEN'S FINAL AT DULWICH LTC

Enjoy your own Wimbledon Experience at Dulwich Lawn Tennis Club. Come and watch on a big screen the magical moments of the Wimbledon Men's Final on Sunday 14th from 1:30PM. Whilst the sun is shinning and the heat is on, refresh yourself with Pimm's, delicious cakes and strawberries & cream.
For more information please email: [email protected].
COACHING:
Spring Term dates: Monday the 7th of January-Saturday the 6th of April
February half term Holiday camps: Monday the 8th of February-Friday the 19th
Easter holiday camps: Monday the 8th of April- Thursday the 18th of April
Summer term dates: Tuesday the 23rd of April- Saturday the 13th of July
May half term holiday camps: Tuesday the 28th of May- Friday the 31st of May
Summer holiday camps: Monday the 8th of July- Friday the 16th of August
Autumn term dates: Monday the 16th of September- Saturday the 14th of December
October half term dates: Monday the 28th of October- Friday the 1st of November
---
SOCIAL/COMPETITIONS:
24th of March (9am-1pm): Adult and child tournament/ Demo racket day simultaneously
31st of march(12pm-4pm) MINI TENNIS FESTIVAL AT DULWICH LTC
CLICK HERE to sign up
Sunday the 14th of April (9am-1pm): Mixed singles Tie break tournament. Handicap will apply.
Sunday the 28th of April: 12&U Boys grade 5 County Tour tournament
Monday the 3rd of June-16th of June: Club championships
Saturday 3the rd of august 2019: Grade 5 8&U Mini Red tournament
---
SPECIAL ANNOUNCEMENTS:
We have started this week our Tennis Programme, running from January to April. We still have spaces available. Please contact us as soon as possible to secure your children's places.
Click this link to access the junior coaching programme webpage: https://clubspark.lta.org.uk/SebastienBlanchonCoaching/Coaching/Junior
We have reduced the tennis drills to once a week (Tuesdays at midday) with the Thursday evenings now being replaced by the ladies team training.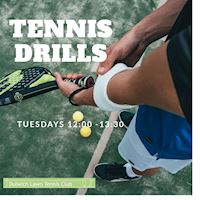 ---
Tennis Camp- February 2019
Join 5 days full of fun and tennis. Our Half term holiday camp is now open.
Click here to access the holiday camps webpage: https://clubspark.lta.org.uk/SebastienBlanchonCoaching/Coaching/Camps
---
Dear players, Here we go again! After the resounding success of the last box leagues edition, we are ready to launch the next season with a bang. 5 categories: - Ladies' singles - Ladies' doubles - Men's singles - Men's doubles - Mixed doubles Come and play your friends and fellow members at the club. Promotion and relegation rules are in place once again. Have fun and good luck with your matches.
6am - 10pm

Mon, 01 Feb 2021