Club
Shinfield Tennis Club now Boasts Four Octogenarians
Tue, 15 Feb 2022 00:00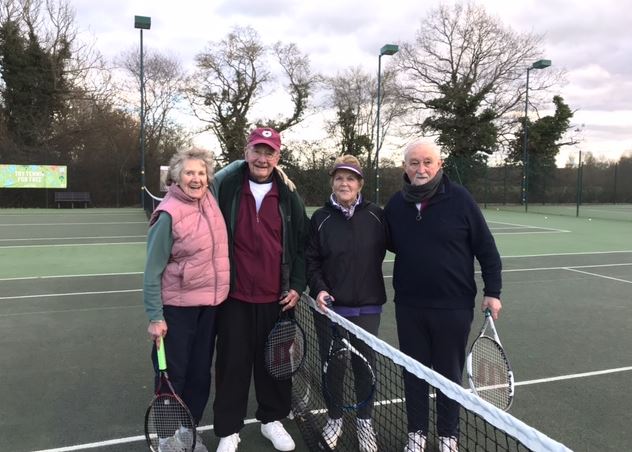 Our former Chairman, Robert Goodey, turned 80 in January, bringing STC's number of octogenarian members to four. The SuperVets celebrated Robert's 80th with cake and drinks in the clubhouse, and presented him with several thoughtful gifts. He was deeply touched.
Robert joined the Club around the turn of the century. Although he hasn't played competitively, he loves his tennis and turns up at the Super Vets sessions come rain or shine, always accompanied by his ready smile and cheeky sense of humour.
Our other Octogenarians are Marje Carson, Sheila Arrowsmith and John Medcraft.
Marje joined the club in 1999 and played in the Ladies Leagues.
Sheila has been a member for over 20 years and has played in league matches in both the ladies and the mixed doubles.
John has been a club member for around 45 years. He has served in most of the Offices of the Committee including match secretary, men's captain and vice chairman. He played regularly in the men's and mixed league teams until he turned 70 and you'll find his name on several of club trophies, especially the men's doubles.
You'll often spot our octogenarians on court at Monday and Thursday SuperVet sessions (you'll hear them before you see them!). New players are always welcome, however rusty you think your game is. So dust off that old tennis racket and pop along for a hit. If you're too young to join our SuperVets, check out our other club sessions. There's something for everyone.
Photo: Left to Right: Marje, John, Sheila and Robert, January 2022