Racket Stringing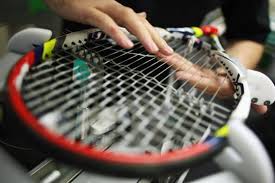 There is a stringing service offered at the club by Carl Shoulders he has been a qualified professional stringer since 2014.
Carl is on hand to offer advice on which strings may suit you best for your game style and can offer recommendations that could also ease the effects of an arm injury like tennis elbow.
Carl prodominetly uses a british supplier of string RAB that offers a huge range of products that match or better alot of the more marketed strings you will see. After testing most of the range Carl can point you in the right direction and once you feel the performance and hear the price you proably wont look back.
If you are set on your string choice Carl can still source all brands for you!
As well as strings if you are in need of new overgrips, grips or grip customisation Carl is happy to help.
Contact Carl 07983981575 or email carlshoulders@btinternet.com