Walking Tennis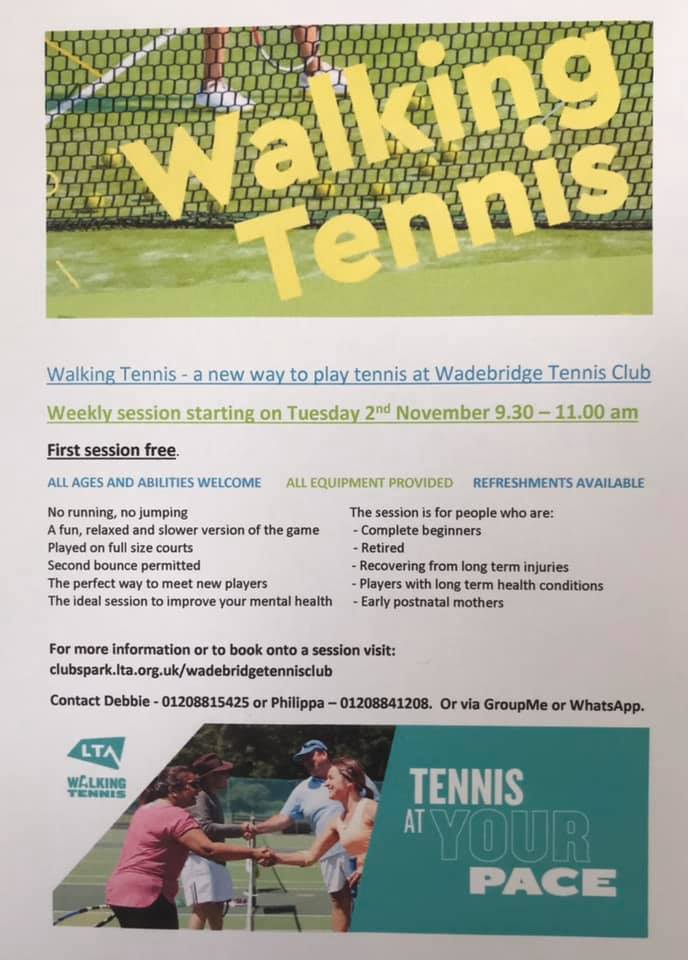 Our new walking tennis session welcomes adults of all ages and abilities to play a gentler form of tennis. It is ideally suited to former players who wish to continue the sport at a gentler pace, anyone with restricted movement, people with long-term health conditions, post-natal mothers, and beginners. The sessions are designed to be fun, mildly active, cooperative, and sociable and we aim to match people up with players of similar ability.
We will be offering refreshments afterward so players can stay and get to know each other and possibly arrange their own games outside of the Tuesday session. All equipment is provided and the first session that you attend is free. After your first session, the cost will be £3 per session which covers court fees and refreshments, though concessions are available.
Anyone interested in attending should simply turn up on their first day, about 15 minutes early to complete a registration form, wearing loose clothing and trainers or if you would like more information then please contact the organisers below.
Looking forward to seeing you there.
Contact Debbie Grant (01208 815425) and Philippa Eddison (01208 841208).

Old Tennis Rackets
To support the session we are looking to provide rackets for everyone and so would like to build up a stock to use for these sessions. Do you have an old racket knocking around at home that you don't use anymore. Let Debbie or Philippa know if you're happy to donate it to the session. We can always put on a new grip and make it look good so don't worry it if looks a bit tatty.