Squash Courts in Edinburgh
We have 3 excellent, recently refloored squash courts. All of the courts are fan-heated with thermostat regulation and are lit by bright, motion-sensitive LED lighting, so you'll never lose sight of the ball in the corners!
Courts 1 and 2 have an upstairs viewing gallery which backs onto the entrance to our bar, and Court 3 is a glass-backed show court with seating.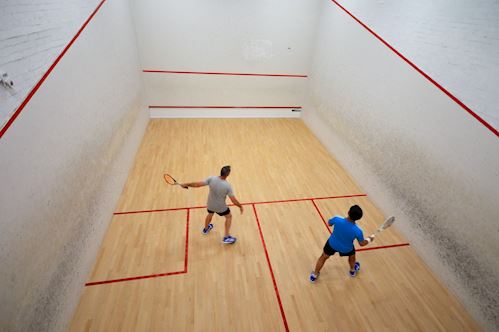 Booking
Courts can be reserved on our Booking page.
---
Information for squash members
Court etiquette
- When entering a court where a game is in progress, always knock on the door and wait for someone to tell you that you can enter.
- If in doubt, play a 'let' to reduce the risk of contact or injury when playing.
- All juniors should wear eye protection as indicated by Scottish Squash.
- Please remember to switch off court heaters when you are finished playing.
Squash lessons and coaching
If you're new to squash or you want to take your play to the next level, there are a range of courses for both juniors and adults. Our head coach is Senga Macfie. See our Coaching page for more information.
Social squash
Social squash takes place every Sunday at 7 pm. It's a friendly, drop-in style of squash that's open to all members and all abilities. We usually start with some 3/4 court play and then move into games.
Racquetball
We sometimes run organised racquetball sessions, depending on demand. If you are interested in racquetball sessions, please e-mail info@abercornsportsclub.co.uk
Competitive league squash
Abercorn usually fields both a mens and ladies team in the East of Scotland Squash Leagues. Matches are played from October to March. If you are interested in playing on one of our teams please get in touch via info@abercornsportsclub.co.uk.
Squash box leagues
Our box leagues are mini leagues that run on a monthly basis. Each league consists of 4-5 players, so all you have to do is play 3-4 matches over a month. They're a great way to meet the other members at the club and get into playing more squash. All ages and abilities are welcome – we have all levels from team players to beginners taking part each month.
We use SportyHQ to run our box leagues, making it easy to enter scores, track your results and view the leagues online. Near the end of every month a doodle pool is circulated by email to club members, and all you need to do is enter the poll and you'll be included in the next round.
You're free to drop out of the leagues and return for a later one – we'll try to get you back into a league close to where you left.
Box league rules
Each match is the best of 5 games with PAR (point-a-rally) 15 scoring. A tiebreak is played if the game score reaches 14 points, where a player must win by two clear points.
Players are awarded:
1 point per game won
1 point for a match win
1 point for playing a match
2 points for completing all your matches