If your child is on the Performance programme click here.
Our Junior groups provide all players the opportunity to learn the racket and ball skills needed to play tennis. Using LTA age guidelines we place all players in classes at an appropriate learning level. All juniors will be given the opportunity to compete in FUN internal competitions.
The Tennis programme at Royal Wootton Bassett is led by Head Coach Ali Ward with a team of coaches on hand to support our extensive programme. We have an active and varied coaching programme, catering for all abilities, from ages 3 to senior level.
Stages in tennis
Tots Tennis (Blue) (3-5 years old) Children will learn fundamental skills for tennis through play in a fun, stimulating and safe environment. Children will be encouraged to make decisions and positively cooperate with other children. Sessions will be active with skills being developed at an appropriate pace to the child's experience and ability.
Mini Red (6-8 years old) Players learn to serve, rally and score with a slow ball, as well as learning the movement and co-ordination skills needed for tennis. Players are encouraged to play fun competitions in teams and as individuals, with short matches using tie-break scoring.
Mini Orange (8-9 years old) Mini Tennis Orange is a great way for players to continue their progress from Mini Tennis Red and is for players aged 8 and 9. Players develop a rounded game learning a range of techniques and tactics. Courts are bigger and wider than the red stage but still smaller than full-size tennis courts. There are team and individual competitions with matches using tie-break scoring.
Mini Green (9-10 years old) This is for players aged 9-10 years old who are ready to test their skills on a full-size court. Our approach to helping children into the sport makes it far easier for them to develop their skills and progress with their tennis. Participating in Mini Tennis will be beneficial for your children on many levels. Their confidence will grow as they progress through the stages. They'll get all the benefits of regular physical activity too, their work on the court will help them to keep fit, healthy and happy. They'll learn the fair play values of tennis as well – these encourage good behaviour and sportsmanship.
Why slower balls? Reduced pace balls (and smaller courts) allow coaches to teach a full range of tennis skills while young players have control of the ball.
Yellow Ball (11 years plus) Yellow Ball is for players 11-18 years old. They will continue to learn advanced technique and tactics to prepare them to compete, both internally and externally.
Become a member of Royal Wootton Bassett Tennis Club and recieve the discounted coaching rate!
Coaching Timetable.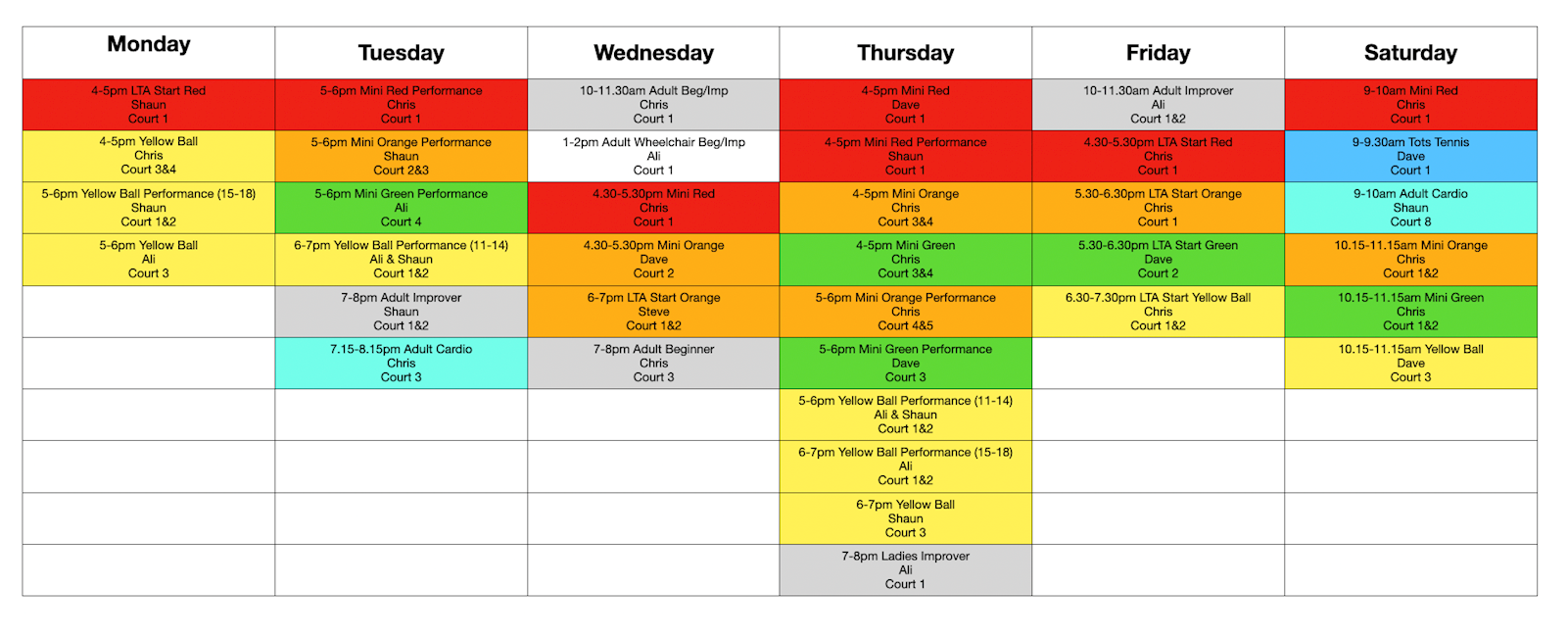 Please scroll through the list below to find your course.