Whether you're improving your game for social doubles or team tennis, our adult tennis squads will help you along the way with a weekly training routine, a great hit and match-winning themes.
Please use the descriptions below to work out which group suits you best, then select a course form the bottom of the page.
Cardio Tennis
Cardio Tennis is a high energy group fitness session that combines music and tennis with cardiovascular exercise. Delivering the ultimate full body workout, Cardio Tennis is fun, social and designed to get you moving. All standards welcome!
Wheelchair Tennis
Our friendly sessions for people with a physical impairment that would like to try out Wheelchair tennis. Its open to all standards whether you have played before or not. All our current players are very friendly and welcoming and will put you at ease so why not come and have a go.
Tennis Xpress
If you have never played tennis before, or haven't played in a long time, Tennis Xpress is for you. It is an easy and fun way for adult beginners to get into the game. During the six week course you will be taught new skills and be shown how to serve, rally and score, so that by the end, you will be able to enjoy fun matches with your friends, family or other people you meet.
Adult Beginner
These lessons are great for people new to the game or who have been out of tennis for a while. Played at school? Played as a child? Want to get back into tennis and regular exercise? These sessions are for you! Lessons cover basic techniques and tactics in a relaxed, fun environment.
Adult Improver
These lessons are for players of a higher standard than the beginner class. Players will have good technique and an idea about a variety of tennis tactics for singles and doubles. Lessons are based on a competitive framework and will focus on more advanced techniques and tactical intentions in match situations.
Adult Advanced
These sessions are for players who have represented the club in higher divisions.
Become a member of Royal Wootton Bassett Tennis Club and recieve the discounted coaching rate!
Coaching timetable.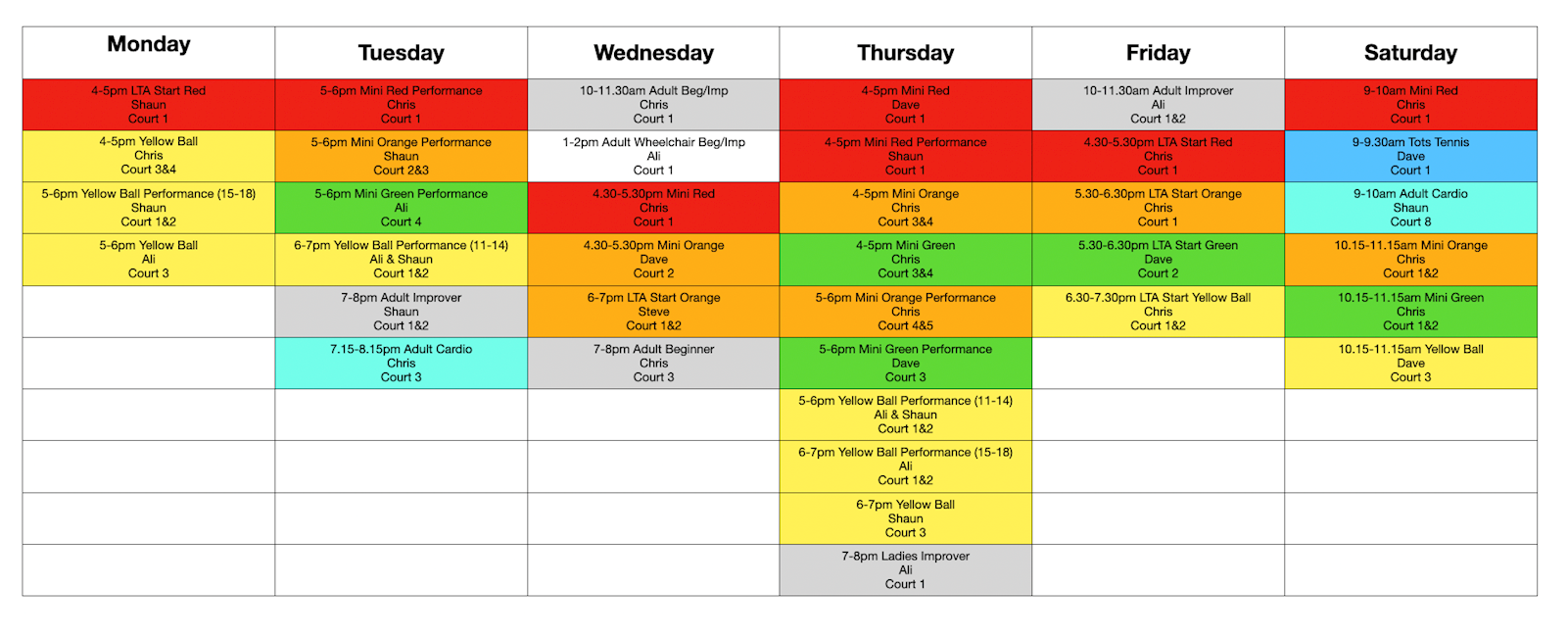 Please scroll through the list below to find your course.