We are delighted to announce a new coaching partnership with Kinetic Tennis, an energetic new company who have established a network of coaching programmes in a number of clubs across the Leeds Bradford area.
ATBC welcomes Jamie Walters, Head Coach at Kinetic as lead coach on our programme. Jamie is a fun and vibrant coach who has worked extensively in primary schools and clubs in and around Leeds and Ilkley coaching mini tennis and promoting schools participation. Jamie is the perfect coach to offer a fun and friendly introduction to tennis.
Adults will be interested to learn that as well as having a keen interest in match tactics, he has worked in the area of biomechanics, which allows him to assess and advise on improving technique from an in depth perspective. Completing a masters degree in sport and exercise physiology, Jamie is able to provide sport science support to both performance players and individuals looking to lose some weight by offering tailored training or diet plans.
"My aim is to increase tennis participation within local clubs, and to create more opportunities for young people. Furthermore, I would like to bridge the gap between sport science and practice to increase player development and create an all-round athlete."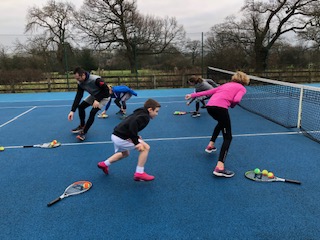 Jamie is starting a full coaching programme with effect from July 7th in line with LTA COVID-19 guidelines. Consequently places will be limited so please book early to avoid disappointment. He wil continue to offer 1 to 1 coaching. Please contact him directly on 07938 850558 or email [email protected]
Please register your interest in more information about coaching at Almscliffe by clicking on the Virtual Open Day Link below or go to the Junior and Adult Coaching tabs to choose your session and follow the link to Kinetic's booking page.