Berkshire Tennis
WELCOME TO
Home of Tennis in Berkshire
Here you will find all the important information for players and clubs within Berkshire as well as the activities of Berkshire LTA.
Headlines:
Berkshire Winter League/National League Berkshire Junior 2020/21
Online entries open by Monday 20th July - watch this space!
---
Coronavirus (Covid-19) - latest update (3/7/20)
Return to Managed Play
Following the Prime Minister's statement on 23 June and the subsequent updated guidance published by the Government on 30 June for the phased return of sport and recreation, the LTA has worked to develop an updated set of practical guidelines for venues, coaches and players. Key additions and updates to the guidelines have been clearly marked on the pdfs, including what dates they apply from where applicable.
These guidelines apply to both tennis and padel, and outline adaptations and considerations so that tennis and associated activity can be enjoyed in a way that is in line with Government advice and helps to prevent the spread of COVID-19. They include measures to maintain hygiene and minimise unnecessary interactions with others.
While there are no significant changes to the core aspects of the guidelines, there are a number of updates venues, coaches and players should familiarise themselves with, including the relaxation of some of the previous precautionary measures, as well as new opportunities such as the reopening of clubhouses and bars from 4 July. However, the maximum size of groups will remain at no more than six people, and indoor changing facilities and sports courts should remain closed.
These guidelines apply to England only, and have been produced to help venues, coaches and players operate in line with the Government guidance. The full guidelines can be downloaded below – please ensure you read the relevant guidelines in full:
LTA guidance an be found on the LTA website HERE. There are three guidance documents, one for venues, coaches and players can be downloaded below – please ensure you read the relevant guidelines in full before undertaking tennis activity.
A risk assessment template is available HERE
Venue posters that venues can display can also be downloaded from the LTA Covid-19 resources
Venue Resources
Resources for venues in England, Scotland and Wales can be downloaded from the LTA Venue Support Resource Library - including infographics, posters and a risk assessment template.
---
Venue (May 2020) COVID-19 Hardship Fund Support Scheme
All venues which were registered with the LTA as at the 1 March 2020 are eligible to apply for this support.
As part of the LTA's support packages for tennis, we the LTA will be providing LTA Registered Venues with the facility to apply for simple, unsecured financial support of between £1,000 and £5,000 in value, which will be repayable over a three year period, following a repayment holiday of approximately a year, from the point at which the financial support is provided. This support is intended to provide venues with a cash injection where they are facing the issue of costs continuing during this period, but with reduced income, for example as a result of reduced membership renewals. This support will be easily accessible, and interest free. To find our more click HERE
---
Cathie Sabin (OBE 1947-2020) Obituary
"Games teacher and grassroots tennis volunteer who became the first female president of the LTA" - Cathie Sabin obituary from the Times (30/5/20) HERE
---
LTA Tennis Awards 2020 - Regional Winners
We are delighted to announce that Berkshire have won 3 out of 11 categories of this year's LTA Tennis Awards (Regional Winners -Central & East).
Performance Coach of the Year: Nigel Mann
Official of the Year: Selena Coburn
Education Award: Queen Anne's School
Selected from over 2,100 nominations across 11 categories, the winners have been recognised by the LTA for their outstanding contributiution to tennis over the past year.
The awards recognises the inspirational individuals involved in tennis, dedicating their precious time and energy. They also highlight the incredible achievements of some 22,000 schools, 2,768 clubs and over 9,276 LTA approved tournaments. The extraordinary contribution of these individuals and venues helps to bring fans and players closer to the game.
Progressing from the county stage of the awards, this year's regional winners will now go forward to be considered for the national shortlist in each of their respective categories which will be announced in June.
For more details read HERE
---
Berkshire League:
All 2020 Berkshire Leagues Postponed (24/3/20)
ALL Berkshire Leagues in Summer 2020; Berkshire Vets League, Berkshire Summer League and Berksire National League (Adult and Junior) have now been postponed to next year due to the guidance around the developing COVID-19 pandemic. Clcick HERE to find out more.
---
Road To Wimbledon 2020 - venue stage cancelled
Coronavirus (Covid-19) FAQs for Competitions - Players
The LTA have now extended the cancellation of all LTA staged and LTA approved competitions (grade 1 to 6) up to and including 31 May 2020. Therefore, no Road to Wimbledon venue stage events up to 31 May 2020 can take place. Based on this new date, and in conjunction with the All England Lawn Tennis Club, we have made the difficult decision to cancel the Road to Wimbledon venue stage for 2020.
For more information on this competition please visit www.LTA.org.uk/roadtowimbledon
---
MANTIS Offer to Berkshire Club. Find out more ....
---
Competition Age Group Changes
From the 1 April 2020, a new competition age group system for players 18 and under will be implemented based on their year of birth, making it much simpler and easier to use and understand. To find out more........
---
Financial Support for Your Venue
Looking for financial support to develop your tennis venue? The LTA's Quick Access Loan provides funding up to £250,000 in the form of interest free loans. The funding stream is open year round and aims to provide a decision within six weeks of submission of a full application. To find out more........
---
Berkshire AGM - Minutes and Chairman Report - are now available
Find out who are the County winners of this year's LTA Awards
---
Highlights Berkshire League Team Captains' Meeting - 12 September
New Competition Changes during 2019-2020
---
---
For all queries please email: office@berkshiretennis.org.uk or phone +44 (0118) 947 6020 (Tuesday 10 am to 2 pm)
You can also follow us on
Twitter: @LtaBerkshire
Instagram: @berkshirelta
---
Berkshire Leagues
Berkshire are committed to creating high quality competitions for teams, clubs and individuals.
Click "Club League" page to find our more about Berkshire League
All Berkshire league results are an embedded link direct from the LTA Tournament Software website with results automatically updated.
---
Road to Wimbledon Tennis Challenge (club/park/school)
The Road to Wimbledon supported by Slazenger 14U Challenge is a unique competition providing an opportunity for venues to engage and inspire their 14U pupils/players. By entering the tournament and staging an event venues can give their players the chance to qualify to compete on the grass courts at Wimbledon.
The first stage of the competition takes place in a club/park/school and organisers can choose a format relevant to their venue to deliver a fun, sociable competition for players rated 7.1-10.2 or un-rated.
The winners of these events will then progress to their County Finals. County Final winners are then invited to compete in the National Finals at Wimbledon in August. For stronger rated players (6.2 or higher) there is the Road to Wimbledon International event which players can enter directly.
2019 R2W Finalists Clinic with Tim Henman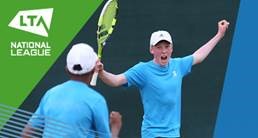 ---