Coaching Programme
Please see the separate tab above for Junior Coaching.
Ben Griffinis our Head Coach. He brings with him 17 years of coaching experience and Griffin Tennis provides a comprehensive coaching programme at Chalford Tennis Club for players of all ages and experience.
Ben Griffin – Head Coach – LTA level 4
coaching@chalfordtennisclub.net
We are also pleased to have Bjorn Merrett as a Club Coach – LTA level 3
07711804175
Walking Tennis
Starting Saturday 15th July.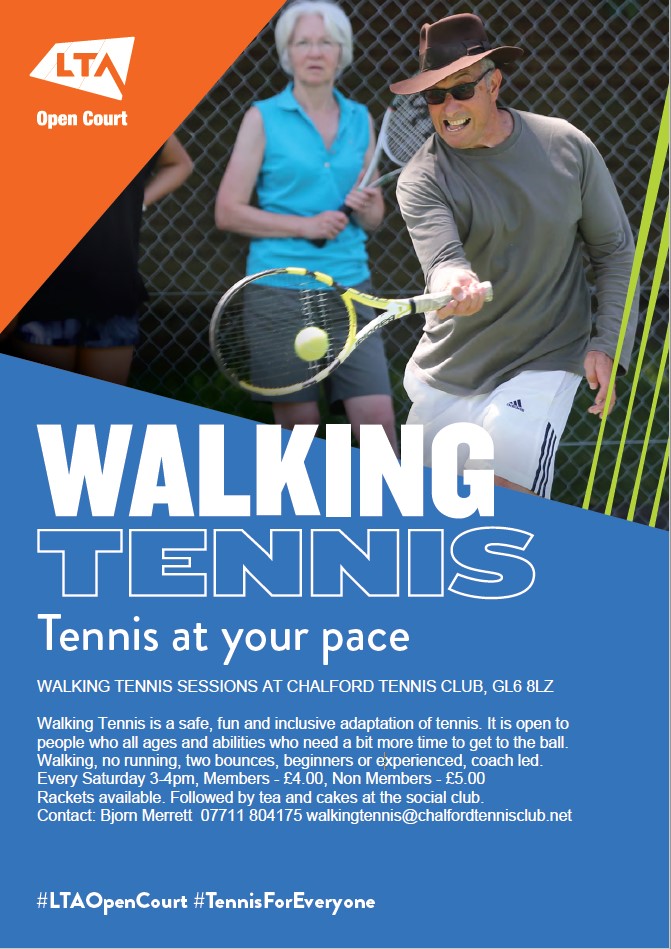 We can provide a racket if required.
Adult Group Coaching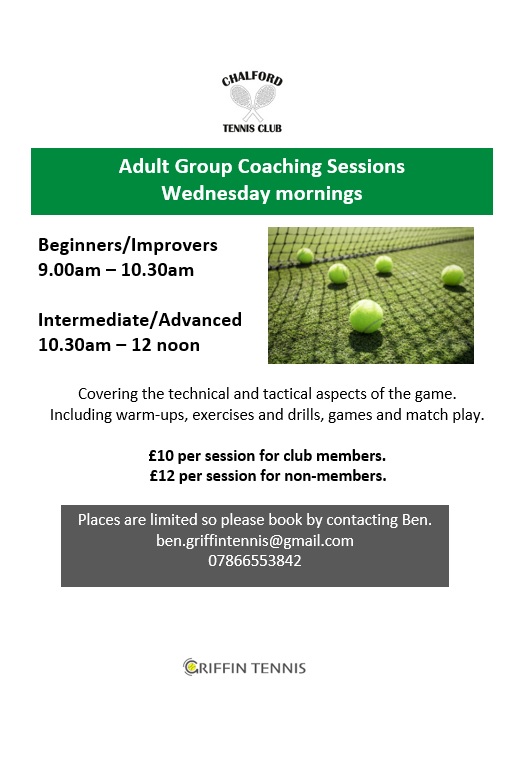 The first session (9.00am-10.30am) is aimed at beginners / improvers – if you're new to tennis or haven't had much coaching before, or perhaps returning to the court after a long break and want to refresh, this session is for you!
The second session (10.30am-12 noon) is aimed at the intermediate / advanced level – this session is targeted at players who already have tennis experience and enjoy competing.
We'll cover both the technical and tactical aspects of the game, with doubles play being the primary focus. Sessions will include warm ups, exercises and drills, games and match play.
The cost is £10 per person per session for club members.
It is necessary to book in advance to attend these sessions as places are limited each week. To book your place please contact Ben directly.
Hope to see you on court!
Please visit the Griffin Tennis website for more detailed information.
Drills
Drills are group sessions during which players are put into situations that might occur during a point in a match. The repeated experience of being in these situations builds up the muscle memory to respond as quickly as possible when they happen during match play. Drills sessions are focussed mainly on doubles and are great fun, active and sociable! There is no need to come with a partner.
Saturdays 10.00am - 11.00am
Cardio Tennis
Cardio tennis is an engaging and sociable group fitness class which takes place on the tennis court and is open to players of all ages and abilities. It is a high energy session of drills and games played with up-tempo music. The idea is to keep the heart rate up, burn calories and have fun! There is no need to come with a partner.
Tuesdays 7.00pm - 8.00pm
Private lessons can be arranged on a 1:1 basis, 1:2 or even small groups.
As a beginner, private lessons are a great way to quickly learn the fundamentals of the game, build confidence and get started on your tennis journey. If you're a more experienced player then the coach will be able to work with you on a particular aspect of your game that needs improvement. That might be a particular shot, or footwork pattern for example, or it might be something tactical for singles or doubles. Private lessons with the coach can also be a high energy workout if you simply want to run and hit a lot of balls!
Please contact Ben or Bjorn directly to arrange a private tennis lesson.
Help the club raise funds as you shop online using this link. http://efraising.org/4rwmWZ1wBR Its simple and free to you.