Safeguarding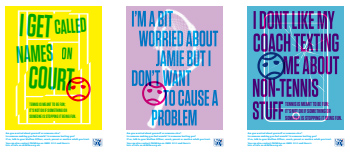 The LTA wants tennis in Britain to be at the forefront of safeguarding in sport and LTA Registered Venues and Accredited coaches play a vital role in achieving this.
As an LTA Registered Venue we have a shared responsibility with everyone else involved in tennis to promote the welfare of all children, young people.
Claygate LTC acknowledges the duty of care to safeguard and promote the welfare of children and adults at risk.
The club is committed to ensuring its safeguarding practice reflects statutory responsibilities, government guidance and complies with best practice and LTA requirements.
Full details can be found in our safeguarding policies.
The safety of all children and adults at risk is our number one priority. Should you have any questions or concerns with regards to safeguarding, please contact our welfare officer, Peter Foster on [email protected] or 07960 585572.