Play Tennis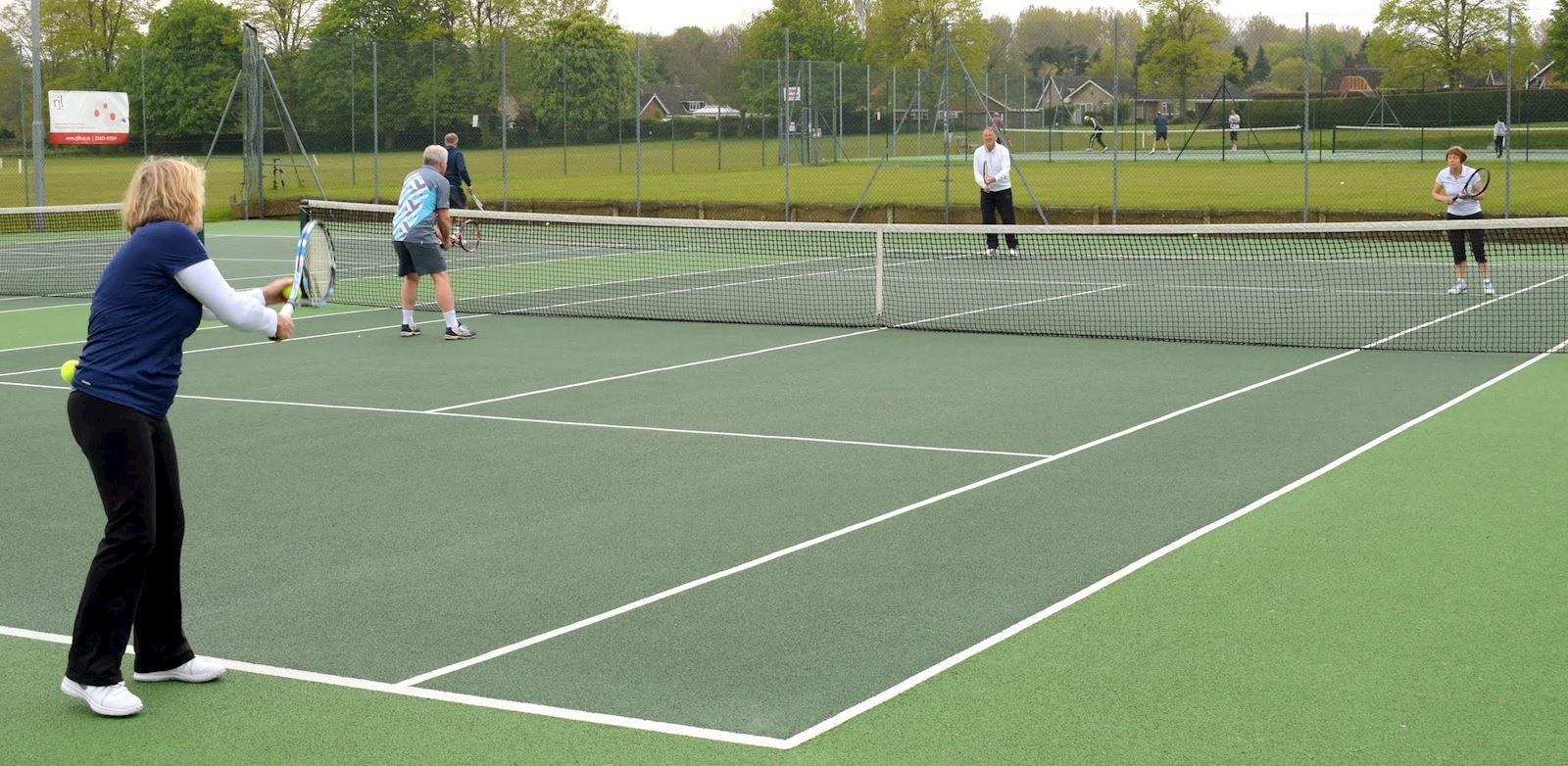 Looking to play tennis with friends and family? Members of our club have four hard courts plus two grass courts in the summertime, all maintained to a high standard, on which to play tennis. With free floodlights on all four hard courts, members are able to enjoy playing social tennis all year round until 10pm. Simply book a court online, no turn up and play.
Club Sessions
For new and existing members, there are plenty of opportunities to play social tennis and meet people at the same time. Club sessions are open to players of differing standards who know their way around a tennis court, offering the chance to play with stronger and weaker players; simply turn up and play. Prospective members are very welcome and we even let you have three free taster sessions!
Please note that you should be able to serve, volley and play rallies to attend club sessions. If you are new to tennis, or have only had some basic coaching, please contact our Head Coach Katie to arrange for individual lessons or enquire about a Beginners Coaching Course.
Weekly Schedule of Club Activities
Time
Session
Information
Contact
Monday
10:00-12:30
Club Morning
Turn up & play-social doubles.
A good way to start the week!
Malcolm Clarke 01603 528197 malcphoto@hotmail.com
Tuesday
18:40-20:30
Club Night
Turn up & play-social doubles.
All are welcome!
Jenny Chambers
Thursday
18:40-20:30
Club Night
Turn up & play-social doubles.
All are welcome!
Jenny Chambers
Friday
09:30-11:00
Ladies Coaching and Play (Term Time)
Our very popular Ladies Morning-Social doubles match play, with drills and practices to develop shot techniques, court positioning and tactics.
Block booking for term. Cost depends on number of weeks in session- £3 per session
Katie Brooks
This event is full. Please contact Katie to join the waiting list.
Saturday
10:00-12.00
Club Morning
Social doubles. A rota of 16 players-8 men & 8 ladies
Contact Margaret to join the rota!
Margaret Robins 01508 470296
margaret.robins@btinternet.com
Sunday
14:00-16:00
Social Tennis
A social afternoon of tennis.
Malcolm Clarke 01603 528197 malcphoto@hotmail.com
Monday Club Mornings, Tuesday and Thursday Club Nights
Sets generally comprise eight games but, at the organiser's discretion, this may be reduced if the number of attendees exceeds court capacity to a significant extent. Sudden death (one point) deuces. When players have completed their set number of games, the organiser for the session will advise the next mix up of players.
Saturday Club Mornings
A social game for 16 players, men and ladies, organised by a rota on a three monthly basis. Mixed doubles is played, 3 sets of 8 games changing partners and opponents each set. If the score at the end of a set is 4-4, the pair who won the last game will be declared the winners. Sudden death (one point) deuces.
If people's availability changes during the lifetime of the rota there is a system of reserves contactable using a WhatsApp group. It is a very friendly group and new players are always welcome. Afterwards, some members adjourn to The Red Lion in Eaton, to socialise off court.