Coaching
October Half Term 2020 Tennis Holiday Camp - BOOK NOW!
Mon, 07 Sep 2020 00:00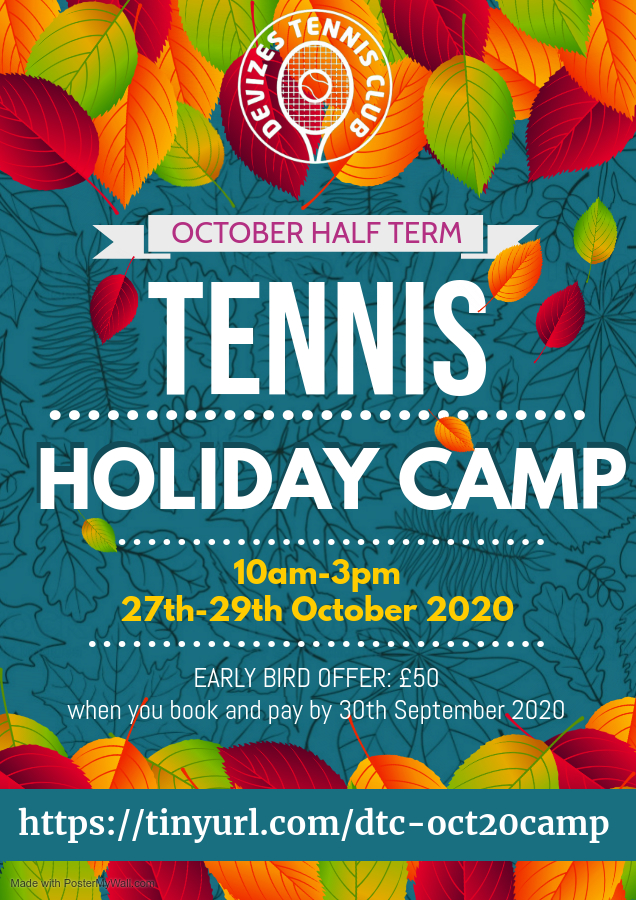 The schools may only just have gone back but dare we ask what you've got planned for the October Half Term break?!?
Here at Devizes Tennis Club we're planning three days of tennis related fun and games in the form of our OCTOBER HALF TERM 2020 TENNIS HOLIDAY CAMP.
We continue to closely monitor and follow guidelines from the Government and LTA with regards to COVID-19, and in order to keep our players, coaches and their respective families safe, this year's October Half Term Camp will be a little different to previous years…
Who:
Children up to the age of 18 years.
Numbers are limited to a maximum of 60 children.
What:
There's no denying that camp will be a little different to previous years, but as always there will be lots of tennis-related activities and skills, an abundance of fun, all under the watchful eyes of our experienced, LTA accredited coaches, who are all DBS checked and first aid certified.
When:
Daily 10am-3pm
Tuesday 27th – Thursday 29th October 2020
Where:
Devizes Tennis Club, Devizes Sports Club, London Road, Devizes, SN10 2DL
How:
In order to keep everyone safe, we will be adopting the approach used by schools in creating 'bubbles'.
Camp attendees will be assigned to a 'bubble' at the start of the week. Each bubble will contain up to 15 kids (per current LTA guidelines) with a designated coach.
Bubble buddies will play together, eat together, have fun together – whilst adhering to social distancing guidelines.
To eliminate the issue of people moving in and out of bubbles on a daily basis, we are only taking week long bookings (three days, Tuesday to Thursday).
Start and finish times may be staggered to minimise congestion in the car park and around the courts, so that everyone can arrive and leave safely.
Anyone attending camp must adhere to the latest Club Health and Safety Protocol which can be found on the Club website and is displayed on the gates to each court at the Club.
How much:
£60 per child
EARLY BIRD DISCOUNT! Book and pay by 30th September 2020 and pay just £50.
BOOK NOW
To book your child's place at camp, please complete our online enquiry form.