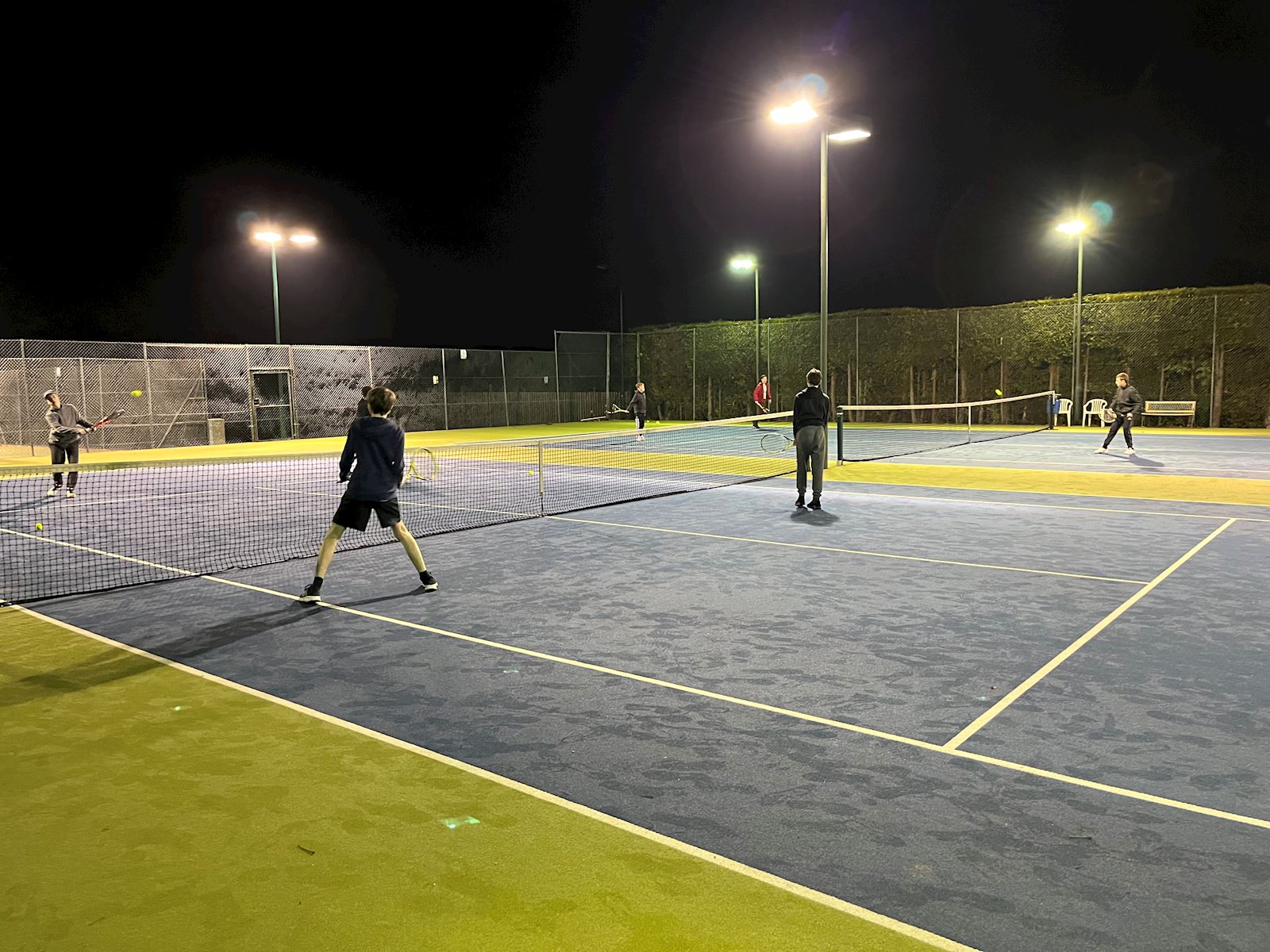 All ages and abilities are welcome at Dunstable tennis club. We are a freindly, family welcoming cllub and welcome you to try tennis with us.
Those wishing to try before joining may come along to social play up to three times before paying a membership subscription.
JUNIOR PLAY
Juniors are provided with opportunities to play either with our qualified coaches in one of our organised junior session either on a Monday evening between 18.00 pm - 19.00 pm or Saturday morning from 10.30 am - 12.00 pm. Book a court with a family member or play with another junior member outside of an organised coach session.
Individual and group coaching is also available plus opportunities to compete in our local junior leagues or internal club competitions and social events
ADULT PLAY
Daytime Social Play(Midweek)
Organised by one of our social session organisers, These takes place weekly for members of all abilities on Tuesday and Friday mornings from 10.00 am until 12.00 pm. These sessions need to be prebooked with one of our organisers to guarantee a place
Weekend Play
During the winter period between October - March we have a Saturday social every fortnight called tea and tennis between 14.00 pm - 16.00 pm, An organised social doubles session for all adult members, A small entry fee is needed to cover the costs for tea and cake.
For our more competivie players we have a doubles competition called winter league, This runs every other weekend to tea and tennis is a real highlight for the club. A doubles competition played fortnightly where you play three rounds of 9 games with every player on your court. Both sessions need to be booked with our organisers, If your interest please message us and we will put you in touch with the organiser
Club Nights
Open to all intermediate and adult members, Adult club nights take place on Wednesday and Friday evenings from 7pm until 9.30pm. If you're looking to just turn up and play with other members, our club nights are perfect.
Tournaments
Several tournaments are held during the year from our club closed championships in the summer to a number of seasonal social tournaments such as our Easter and Christmas fun tournaments.
League matches
The club has teams in several local leagues in bedforshire. If you wish to be considered for match play please talk to the Club Captain.

Coaching & lessons
Individual and group coaching is available from our full time LTA qualified coaching team. Please see the Coaching page for more details https://clubspark.lta.org.uk/DunstableTennisClub/Coaching
Membership
Join today via our webite https://clubspark.lta.org.uk/DunstableTennisClub/Membership/Join
Players of all ages and abilities are welcome and there are a wide range of membership categories to choose from at affoardable prices, so all circumstances are catered for.
Monthly or annually payments are accepted and only takes 5 minutes to setup and join. Court and clubhouse keys are also available from the treasurer for a refundable deposit of £20.00.
Book A Court
All members have a maximun of 4 bookings per week and each booking can be a maximum of 1.5hours. Courts are free to members and balls are supplied which can be found in the clubhouse. New balls can be purchased at the bar at an additional cost of £4. Bookings can be made via our booking page on our website. https://clubspark.lta.org.uk/DunstableTennisClub/Booking/BookByDate#?date=2021-11-04&role=administrator
Floodlights
We have 5 courts that are Floodlit, During winter the floodlight cost is £4 per hour and can be paid at the bar or deposited in out floodlit payment box. The lights are only available upto 9.30pm during the week and not allowed during the weekend. There are no costs for floodlights if you attend club nights or league matches.
Social events
These are organised on a regular basis and include the Annual FamilySummer Barbecue, Christmas Party, Quiz Nights, etc.
Volunteers
Without these the club would not exist and therefore all volunteers are warmly welcomed. Let any committee member know if you are able to help.