Welcome to
Grange Lawn Tennis Club
Welcome to The Grange Lawn Tennis Club
IMPORTANT UPDATE - LTA UPDATE on COVID 19
The absolute priority of everyone in Britain needs to be protecting the health of the nation, with a requirement to adjust our behaviour to help slow the spread of the disease, prevent the NHS from being overwhelmed, and ultimately save lives. The way everyone can do this is by following the Government's advice and staying at home.

Following the Prime Minister's announcement on Monday evening (23 March), people will only be allowed to take part in one form of exercise per day like a walk, run or cycle alone.
Therefore Grange LTC premises and courts are now closed to everyone with immediate effect and until further notice.
Wishing you and your families the very best during these difficult times. Let's stay safe and support each other.
The Grange Lawn Tennis Club (LTC) is an active social tennis club in the centre of Burton-on-Trent, near Burton's Town Hall and the railway station. Established in 1884 we are one of the oldest Lawn Tennis Clubs in the UK. We are competitive in local league matchplay with a variety of teams. Our main distinction (aside from great members) is our four grass courts, which supplement our two all-season floodlit hard courts.
You don't have to go to Wimbledon to play on grass!
The club is open to anyone - we have social (non-playing) members, as well as players of all ages and skill levels. The Grange is always happy to welcome prospective members, with our Saturday Social (tea and tennis) sessions providing an ideal opportunity to meet us. Saturday Social begins at 3pm, after the group coaching sessions. (Note that in the darkest mid-winter Saturdays, it may be best to pre-arrange some playing partners.)
We also have a comprehensive coaching program for all ages; both group and private lessons are available throughout the week. See the Coaching page for more information. Also look for us on Facebook for current news Search: Grange Lawn Tennis Club.
The Grange LTC has been called "The Best Kept Secret in Burton-on-Trent" - come and see for yourself! It's ace.
Grange LTC is proud to state that our policies and practices conform to the high standards set by the LTA to ensure our venue provides a safe, welcoming and inclusive environment for members, players and visitors.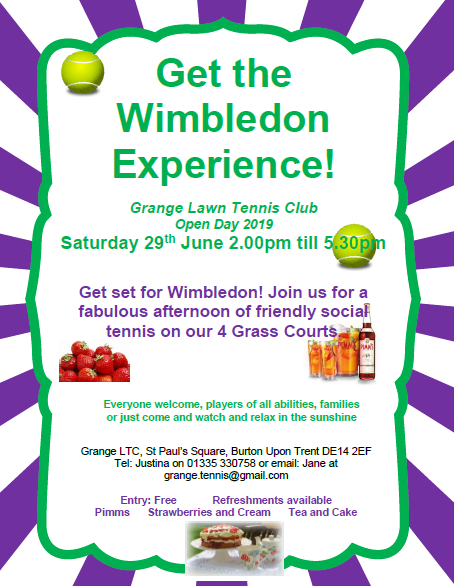 ---
How to find us
St Paul's Square BURTON-ON-TRENT Staffordshire DE14 2FE