Welcome to Hampton in Arden Pétanque Club!
According to a document in the Musée Ciotaden in La Ciotat signed by Ernest Pitiot, pétanque in its present form was first played in 1910 in what is now called the Jules Lenoir Boulodrome in the town of La Ciotat near Marseilles. It was invented by Ernest Pitiot, a local café owner, to accommodate a French jeu provençal player named Jules Lenoir, whose rheumatism prevented him from running before he threw the ball. In the new game, the length of the pitch or field was reduced by roughly half, and a player no longer engaged in a run-up while throwing a ball—he stood, stationary, in a circle.
Thus did petanque start. At Hampton it was a little later. We have been playing for about twenty years. We are quite a social bunch, having great fun in different competitions throughout the year.
Piste Booking
We have 4 Boules pistes that can be booked on the Booking page.
Social Pétanque
We hold club sessions every Monday evening throughout the summer. We have junior coaching at 5.00 pm, seniors at 6.00 pm, and open play from 7.00pm. All are welcome.
Throughout the year we play on Saturday and Tuesday mornings at 10.00am.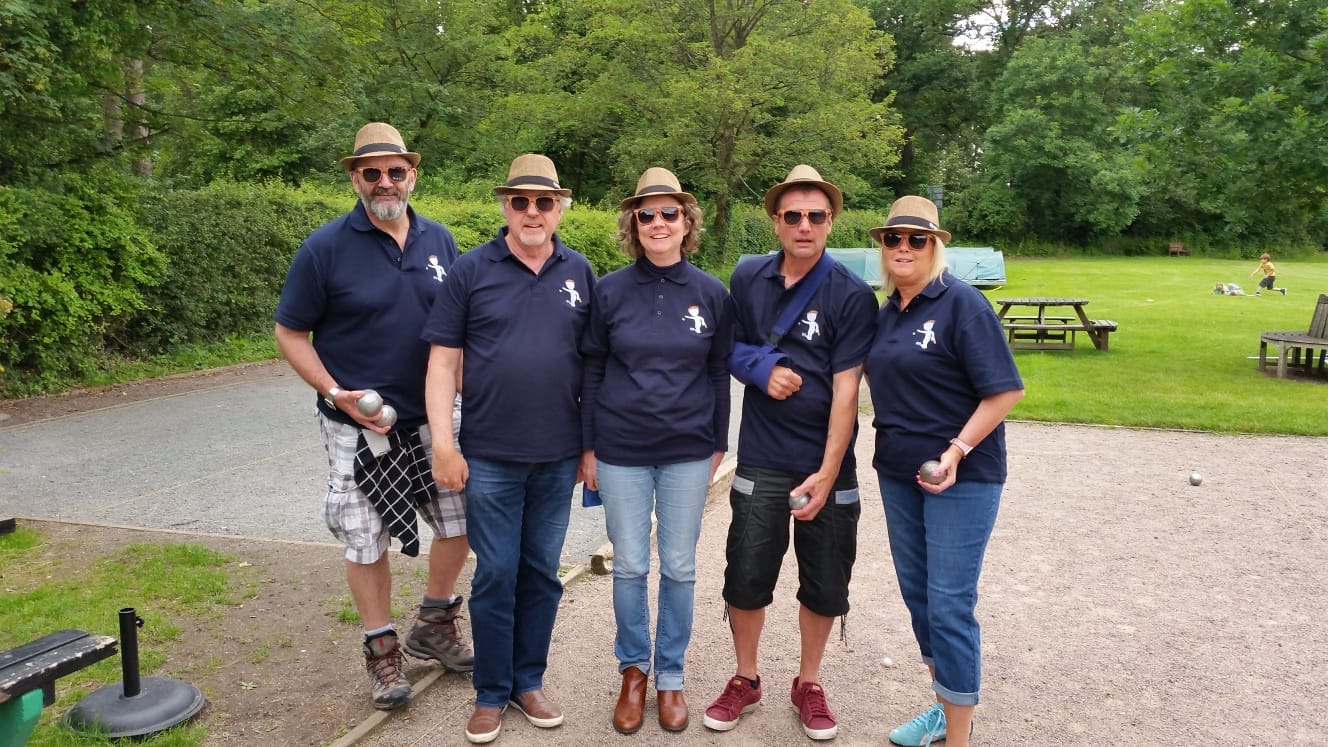 Competitions
The club is a member of Petanque England, and we enter teams in the Heart of England Summer League for licensed players. A number of Hampton players have and do represent the region and play in national and regional competitions.
We hold a summer internal league which culminates in a very social finals day in early September. We also hold singles, pairs and triples competitions which run alongside the league.
We started a winter pairs league, but this was finished off by Covid 19. We will hold it again when we can.
Every December we hold a Christmas Melee.
From time to time, we will also hold friendly games against other clubs, mostly from within the region, but occasionally further afield.
Useful links
Heart of England Pétanque Association
Frequently asked Questions
Contact
Contact us here.
---
Join the Club
We offer a number of different membership types. You can find them here.
How to find us
Hampton in Arden Pétanque Club is hosted in the grounds of Hampton in Arden Sports Club.
You can find the location and directions here.