Welcome to Hampton in Arden Tennis Club!
The Tennis Club has 4 fenced, outdoor, all-weather, floodlit Euro-clay courts and a hard surface, floodlit "KidZone"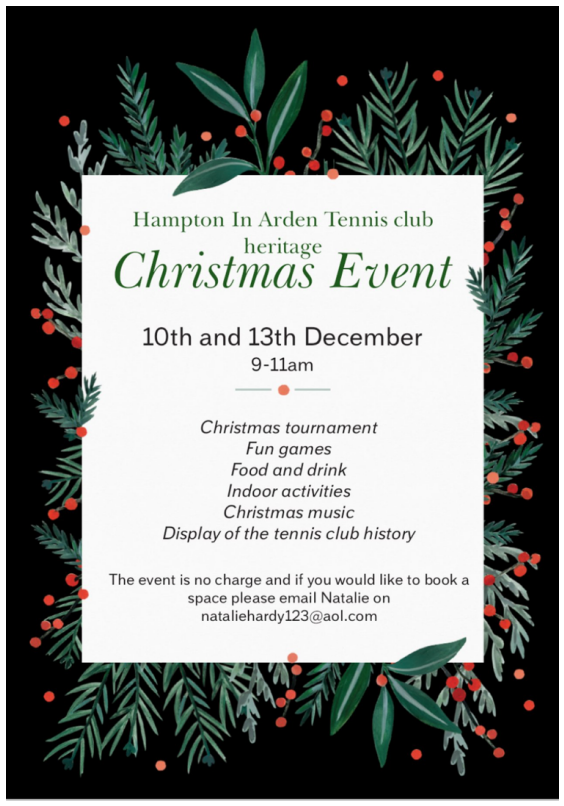 Quick Access
Tennis Courts, Squash Courts and Boules Pistes can now be booked on this website.
Book a Tennis Court, Squash Court or Boules Piste
More details and help on how to use the new Tennis Court, Squash Court, Boules Piste booking system
For Tennis Box Leagues and Member Directory go to eBookingOnline.net.
See the draws and results so far for the Open Tournament 2021.
Coventry and District League
---
Members can attend as many social tennis sessions as they wish from the variety available on weekday evenings and at weekends at no extra cost except for a contribution to lighting costs if required.
We run 2 weekday evening sessions on a Tuesday and Friday evening from 8pm - 10pm, a Saturday session from 3-5pm and Sunday mornings from 10.30 - 12.30. The social sessions run all year round in all but the worst weathers.
Competitive
Within the club, we offer competitive singles, doubles and junior box leagues. These are a great way for you to vary who you play against and improve your singles and doubles match play. The box league matches are played over a two calendar month period (eg Sept and Oct) and then re-started on the first of the following month.
Members can access the Box Leagues at ebookingonline.net.

We organise tournaments for all age groups and standards throughout the year. In the main Open Tournament there are 11 adult and 6 junior titles contested each year - something for everyone.
Why not try out for one of our Coventry League tennis teams? We have 5 mens and 4 ladies teams that compete during the league season (late April to early August) in the Coventry and District Lawn Tennis League.
Awards
Frequently asked Questions
Join the Club
We offer a number of different membership types. You can find them here.
Follow us
Photo albums of past events are held at our Flickr account here:

How to find us
Hampton in Arden Tennis Club is hosted in the grounds of Hampton in Arden Sports Club.
You can find the location and directions here.