Welcome to Hampton in Arden Pétanque Club!
---
According to a document in the Musée Ciotaden in La Ciotat signed by Ernest Pitiot, pétanque in its present form was first played in 1910 in what is now called the Jules Lenoir Boulodrome in the town of La Ciotat near Marseilles. It was invented by Ernest Pitiot, a local café owner, to accommodate a French jeu provençal player named Jules Lenoir, whose rheumatism prevented him from running before he threw the ball. In the new game, the length of the pitch or field was reduced by roughly half, and a player no longer engaged in a run-up while throwing a ball—he stood, stationary, in a circle.
Thus did petanque start. At Hampton it was a little later. We have been playing since May 1991. We are quite a social bunch, having great fun in different competitions throughout the year.
---
Piste Booking
We have 4 Boules pistes that can be booked on the Booking page.
---
Join the Club
We offer a number of different membership types. You can find them here.
---
Hampton Regional Successes
There have been four regional competitions played so far, and Hampton players have figured in three of these
On 6th June, the pairs competition was held at Whitnash. This was won by Hannah Griffin and Glen Woodward from Whitnash.
On 11th July the singles and shooting competitions were played at Coventry. Rachel Kelly, also from Whitnash, won the regional title. There was a little compensation for Hampton as Geoff Phillips won the plate competition.
In the shooting, Geoff managed a reasonable 19 points, which on the day proved better than anybody else, and so we have our first Hampton regional champion.
On 18th July was the triple competition. After a long and hard days play, the champions would be decided in the game between the Hampton triple of Marc Rolfe, Mike Williams and Geoff Phillips and a Hereford side of Phil Price, Bill Wood and Ian Williams. The Hampton team held the lead all the way to 11-10 but could not get through that final hurdle and lost 13-11. Although very disappointed, it does mean that they will be able to represent not just the region, but Hampton as well in the National Champion of Champions finals again to be held at Whitnash on 19th September.
There are competitions coming up with Hampton representation. On Sunday 25th July, Heart of England will be competing in a tri way match against Yorkshire and Mercia at Solihull. HoE hold the trophy which is normally played each year. We have a full Hampton team playing at team 8, Phil Shaw, Dave Townley and Mike Williams. Geoff Phillips will be playing with Brian Stote (Coventry) and Roy Wilkes (Hereford) at team 5.
1st August is the Veterans Pairs (Over 55) competition at Solihull. Hampton representation so far is Phil Shaw and Geoff Phillips
The Inter Regional competition will be held at Melton Mowbray on 4th and 5th September. Although we had a full Hampton team qualify, two are not able to make it, so Dan Adams and Geoff Phillips at the moment will be playing with the National Ladies Singles champion, Rachel Kelly, although that may change.
GLP 19.7.21
---
Hampton Club de Petanque Summer League 2022
Summer League documents can be accessed below:
---
Social Pétanque
Monday evenings during BST, we have a coaching session from 6.00pm till 7.00pm. If pistes are available afterwards we have an open session.
We also have club sessions throughout the year on Tuesdays at 10.30am, and Saturdays at 2.00pm. All are welcome to come and try.
---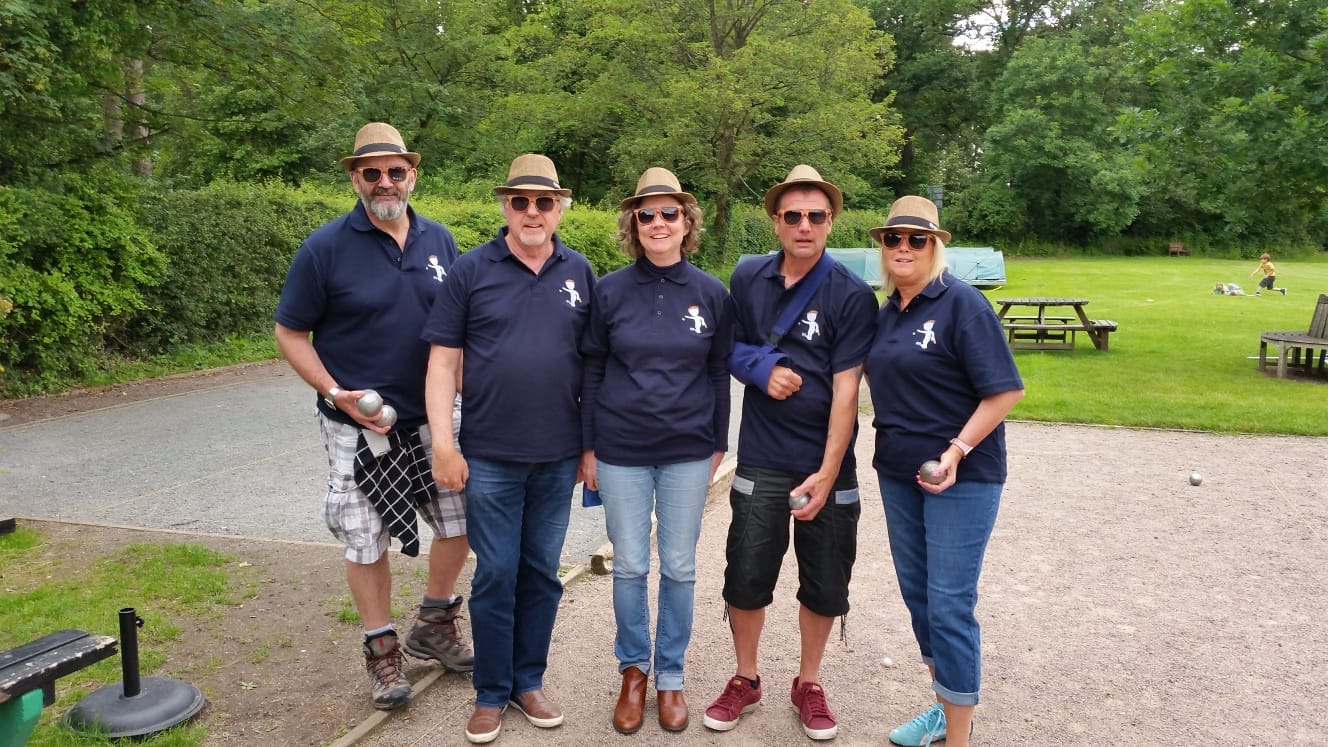 Competitions
The club is a member of Petanque England, and we enter teams in the Heart of England Summer League for licensed players. A number of Hampton players have and do represent the region and play in national and regional competitions.
We hold a summer internal league which culminates in a very social finals day in early September. We also hold singles, pairs and triples competitions which run alongside the league.
We started a winter pairs league, but this was finished off by Covid 19. We will hold it again when we can.
Every December we hold a Christmas Melee.
From time to time, we will also hold friendly games against other clubs, mostly from within the region, but occasionally further afield.
---
Useful links
Heart of England Pétanque Association
---
Frequently asked Questions
---
Contact
Contact us here.
---
How to find us
Hampton in Arden Pétanque Club is hosted in the grounds of Hampton in Arden Sports Club.
You can find the location and directions here.