Coronavirus Update: Playing Safely at Bangor Tennis Club
Mon, 22 Jun 2020 00:00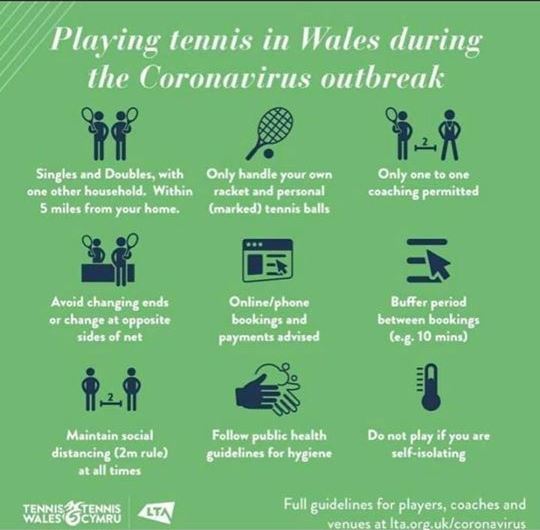 Monday June 22nd

The Welsh Government have announced that tennis courts will be able to re-open and the sport will be able to resume, subject to certain restrictions, from today
To enable tennis to resume safely in Wales the LTA and Tennis Wales and have published detailed guidance for venues, coaches and players. These guidelines are accessible via the link below We encourage you to read (and follow) these guidelines carefully, especially the guidance for players on the last two pages. Guidelines for venues, coaches & players.
Furthermore, because the health of our players, visitors and coaches (as well as their families and friends) is paramount the following regulations willl apply at Bangor Tennis Club until further notice. These regulations are likely to change at short notice.
Only members may play tennis at the club at this time (spectating is not allowed for now).
Do not play if you or anyone in your household is self isolating.
From now on, you must book a court before playing.
Courts may be booked through the ClubSpark system.
Only 1 hour of play is allowed per person per day.
The courts will be protected by a number lock and must be kept locked when not in use.
When a player exits the courts and no-one else is playing, they muct lock-up the court again - whatever time of day.
Players should maintain social distancing (2m rule) at all times.
Change of ends is to be avoided.
Net height may not be altered (the winders have been removed).
Singles play is permitted.
Doubles play is only allowed between two household groups or four players from the same household.
Players must enter and leave the courts promptly and with consideration for others. To maintain social distancing, we recommend a 5 minute interval for changeovers.
Each player must bring their own marked tennis balls and only handle these balls.
Each player must only use their own racket.
The Clubhouse will not be open for use - please make sure you go to the toilet before arriving at the club.
Players must not make any physical contact with other players.
Follow public health guidelines for hygiene - please bring anti-bacterial gel for personal use.
Cleaning products are available at the court entry point. Players must use these products and sanitise (padlock, latch, equipment and hands) appropriately.
Please take rubbish home with you and avoid touching/using the bins.
Please do not use the benches.
Avoid picking up tennis balls from other courts/for other players.
Any individual displaying symptoms of Coronavirus should proceed to follow the test, trace, protect programme. Further information is available here.
Please follow the government advice on travel restrictions.
STAY SAFE AND HELP US KEEP EACH OTHER SAFE!