Coaching at the Club
We have two LTA qualified coaches offering a varied programme for all ages and abilities. Senior coach Alan Cash offers both group coaching and individual tuition throughout the year, while Rachel Smith provides lessons for younger players.
Alan is a very experienced coach. He started playing tennis in 1979 and has competed extensively in Dorset and surrounding counties. He qualified as a coach in 1983 and beyond his work at Bridport his career has included work at Bisham Abbey and Sherborne School for Girls. Following LTA restructuring Alan is now a Level 4 Coach.
Coaching available with Alan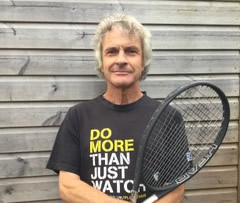 I have always tried to offer coaching to suit all ages from 4 years and for all standards of play.
Over the years the Club has gone from strength to strength and demand has increased.
I am very pleased to welcome Rachel Smith to the team to take over the role of Junior Development Coach for Bridport.
Although I am still available for private Junior lessons, please contact Rachel directly if you are interested in signing up to Junior group sessions.

Adult Beginner Groups
These normally run from April till September (Sundays 6.30pm till 8.00pm).
Adult Intermediate Groups
These are usually from April till September (Wednesdays 6.00pm till 7.30pm)
Each session covers a certain topic and includes the opportunity to play with others. This provides a chance to gain confidence and understand technical issues as well as the tactics involved, in a fun relaxed environment. These sessions are currently £8 / £10.
Private Coaching
Throughout the year I offer lessons from Individual to normally up to 4 players where the sessions can be tailored to the requirements of the players. These provide a chance to really work on your own game as required or share with friends if preferred. The current fee for these is £32 per hour which may be shared.
Contact Details
Alan Cash
07813 243123 / 01308 425210
Rachel Smith
Mobile: 07848 819194
Email: [email protected]